Who we are and what we do
We are a community based in Singapore who aims to experience Christ's love, learn about Catholic values in doctrines and traditions through prayers, praise and worship. We explore His teachings, enjoy His presence through fellowship, and learn to be witnesses of His love. By His grace, we hope to attain Christlikeness in our day-to-day life.
We envision our community to be a loving family in Christ who provides a platform for all Indonesian Catholic young adults in Singapore to grow in faith and unity, embody Christ's characters, contribute talents and deepen their Catholic knowledge.
Our mission for the community members are:
To build an intimate relationship with God through prayers, as well as praise and worship.
To know the truth in Catholic teaching through Bible sharing and study.
To love each other in the family in the form of communal fellowship.
To groom Christ-like family members who become living testimonies to the love of Christ.
To develop ministries to identify and develop talents so as to channel them to contribute more actively for the glory of God.
Weekly Cell Group Schedule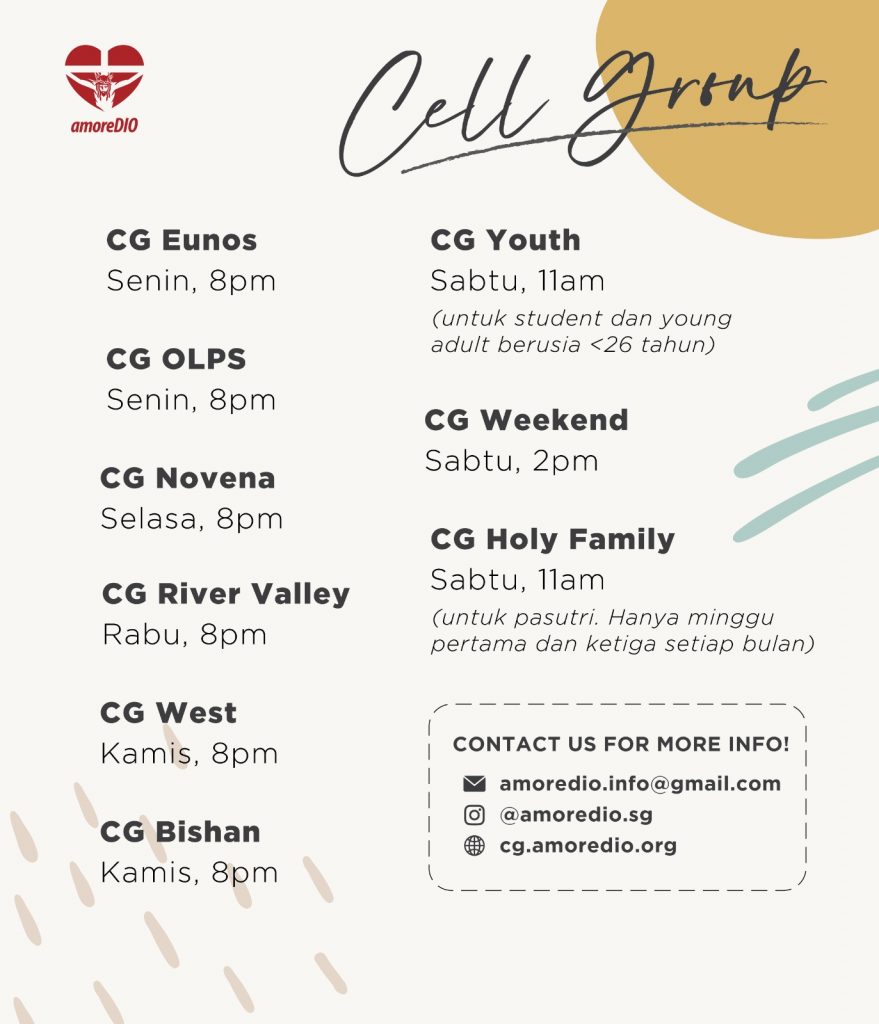 | Cell Group | Contact Person | Contact Number | Area | Cell Group Day | Start Timing |
| --- | --- | --- | --- | --- | --- |
| Coordinator | Arliando | 98950484 | - | - | - |
| CG East | Lucy | 93857576 | Eunos | every Monday | 8:00 PM |
| CG River Valley | Rosie | 81225413 | Online | every Wednesday | 8:00 PM |
| CG West | Vena | 92282309 | Clementi | every Thursday | 8:00 PM |
| CG Youth (for youth under 25 years old) | Gracia / Luwina | 91240538 / 94675644 | St Bernadette classroom | every Saturday | 11:00 AM |
| CG Sabtu | Yohanes Kevin | 83935173 | St Bernadette classroom | every Saturday | 2:00 PM |
| CG Zion | Bima / Filbert / Shania | 86280714 / 94335418 / 98868576 | St Bernadette classroom | every Saturday | 2:00 PM |
| CG Bishan | Leo / Theodore | 86228180 / 97510743 | Bishan | every Thursday | 8:00 PM |
| CG Holy Family (for married couples) | Amel / Bianca | 86197420 / 86139213 | Please contact CP | every 1st and 3rd Sat of the month | 11:00 AM |