Welcome!
We are AmoreDio, a youth Indonesian Catholic community based in Singapore. You can find out more about our cell groups, ministries and activities here.
Join us as we grow and encounter Jesus' love together!
---
Latest Event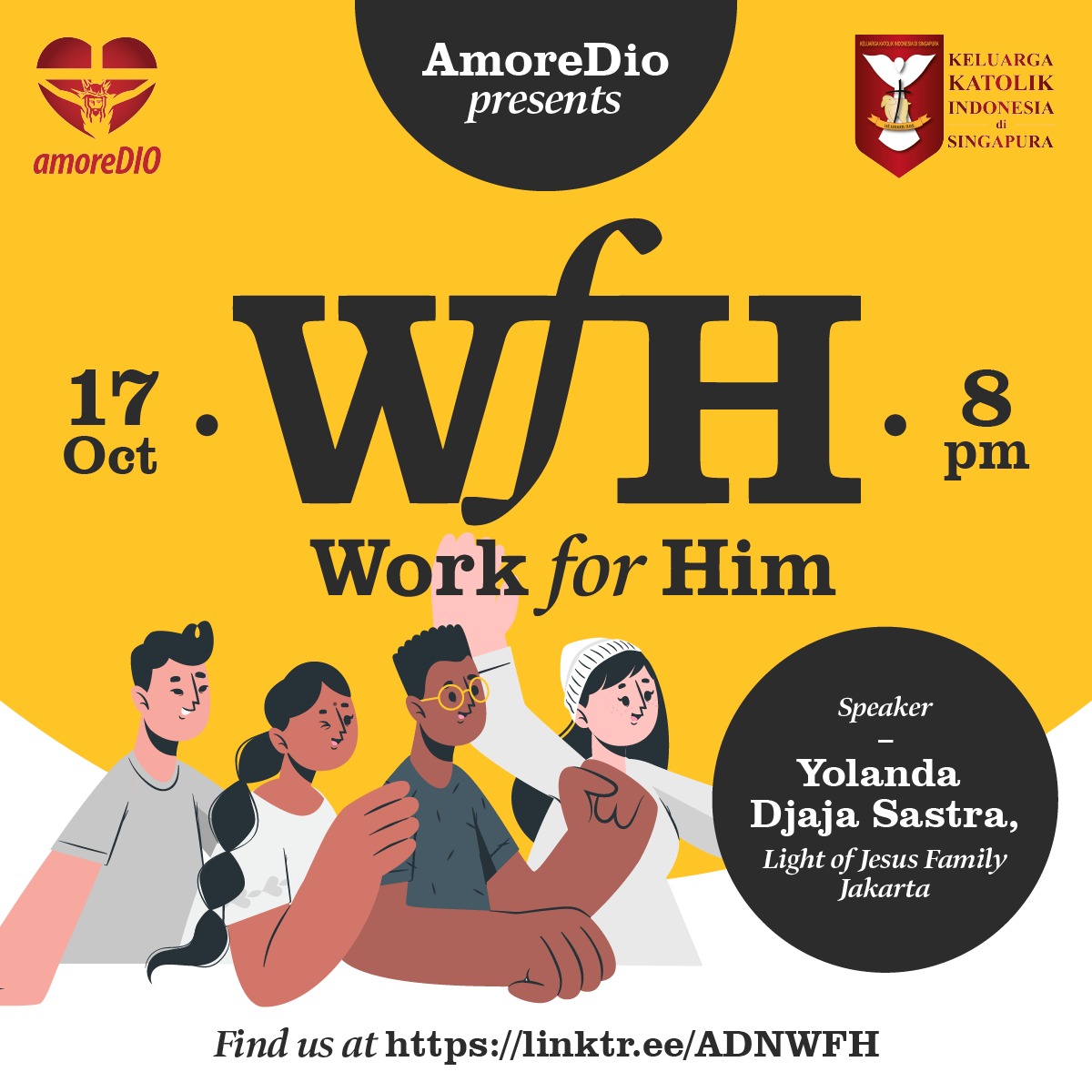 Event Details
Venue

youtube.com/amoredio

Date

Saturday, 17 October 2020

Time

20:00
ADN WFH (Work for Him)
AmoreDio Night "Work for Him" bersama Yolanda Djaja Sastra dari Light of Jesus Family, Jakarta

Yuk cari tahu kenapa sih kita harus pelayanan? Terus gimana sih caranya melayani Tuhan apalagi disaat kondisi kita saat ini (WFH while WFH?!).
Dan jangan lupa ajak temen-temen kalian buat ikutan yah!

🗓 Sabtu, 17 Oktober 2020
🕒 8pm SGT (LIVE SESSION at Youtube)
👩🏻 Yolanda Djaja Sastra (Light of Jesus Family, Jakarta)
💻 linktr.ee/adnwfh
---
Prayer Intention of the Month
Oktober 2020
1. Kami berdoa untuk persiapan dan pelaksanaan ADN Work for Him, dan pembekalan servant leader oleh ci Yolanda dari LOJF Indonesia. Berkatilah ci Yolanda agar dapat menjadi alat-Mu untuk berkarya bagi pertumbuhan iman kami. Serta, siapkanlah kami semua agar dapat menanggapi pesan dan panggilan-Mu.
2. Kami berdoa supaya di bulan Rosario ini, kami dapat lebih belajar dan meneladani Bunda Maria dalam bersikap dan menanggapi panggilan-Mu.
3. Kami berdoa untk situasi COVID-19 di Singapore. Kami bersyukur atas situasi yang semakin membaik dan terkontrol, dan kami mohon supaya situasi di phase 3 dapat tetap terkontrol. Jamahlah semua orang yang terjangkit virus COVID-19 agar mereka semua dapat pulih kembali.
4. Intensi Paus bulan Oktober untuk misi kaum awam di Gereja: semoga lewat karunia pembaptisan, para kaum awam, terutama wanita, dapat lebih berpartisipasi aktif di dalam berbagai bidang tanggung jawab di Gereja.
---
Latest Updates / News
Latest Cell Group Readings
Santa Francesca Xavier Cabrini
Sesi 48 – Week of 18 October 2020
Hidup jauh dari kampung halaman bukanlah hal yang mudah. Banyak sekali tantangan yang dihadapi untuk dapat bertahan hidup di tanah perantauan, apalagi berpikir untuk melayani. Hari ini kita akan belajar dari kisah hidup Santa Francesca Xavier Cabrini (St. Frances Xavier Cabrini).
Recent Article
AmoreDio Night #MarKiCar Web Series
Circuit breaker tidak menjadi halangan buat acara AmoreDio Night (ADN). Sedikit berbeda dari ADN yang lalu, kali ini teman-teman Cell Group AmoreDio menyuguhkan sesuatu yang baru, yaitu sebuah Web Series di YouTube AmoreDio dengan judul "MarKiCar – Mari Kita Cari". MarKiCar Web Series mengangkat tema Theology of the Body (TOB) sebagai materi pembahasan yang dibagi […]
---
Contact Us
| Cell Group | Contact Person | Contact Number | Area | Cell Group Day | Start Timing |
| --- | --- | --- | --- | --- | --- |
| Coordinator | Nia | 84065832 | - | - | - |
| CG Eunos | Lala | 90535129 | Eunos | every Monday | 8:00 PM |
| CG OLPS | Cindy | 97163197 | Our Lady of Perpetual Succour classroom | every Monday | 8:00 PM |
| CG River Valley | Olivia | 90077036 | St Bernadette classroom | every Wednesday | 8:00 PM |
| CG West | Christian | 85918117 | Clementi | every Thursday | 8:00 PM |
| CG Youth (for youth under 25 years old) | Chacha | 94578469 | St Bernadette classroom | every Thursday | 8:00 PM |
| CG Central | Andi | 90683590 | St Bernadette classroom | every Thursday | 8:00 PM |
| CG Novena | Elva | 91412414 | Toa Payoh | every Thursday | 8:00 PM |
| CG Bishan | Gladys | 98155563 | Bishan/Buangkok | every Thursday | 8:00 PM |
| CG Holy Family (for married couples) | Kelyn | 97116112 | Please contact Kelyn | every 1st and 3rd Sat of the month | 11:00 AM |