Welcome!
We are AmoreDio, a youth Indonesian Catholic community based in Singapore. You can find out more about our cell groups, ministries and activities here.
Join us as we grow and encounter Jesus' love together!
---
Upcoming Event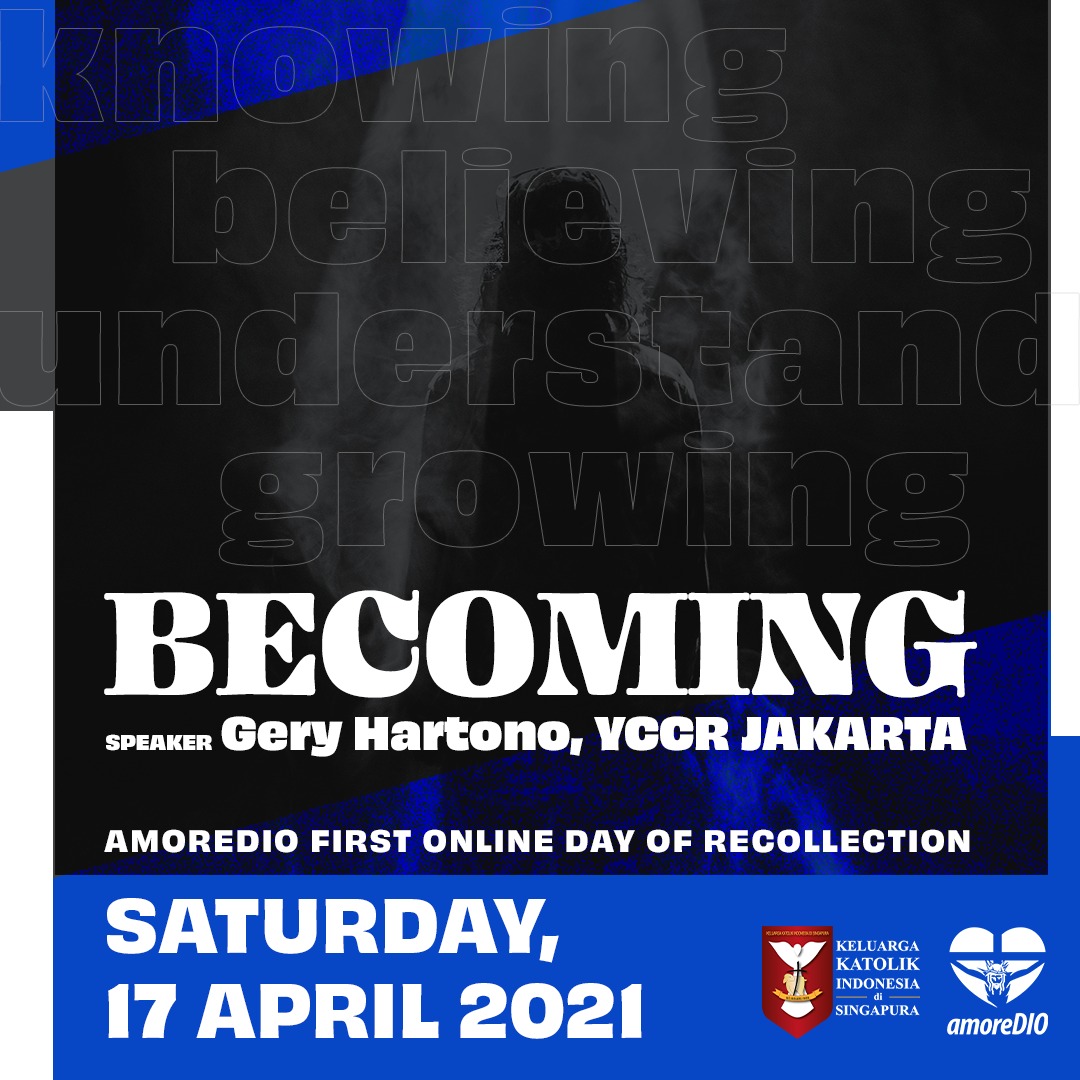 Event Details
Venue

Zoom

Date

Saturday, 17 April 2021

Time

10:00 to 15:00 (with 1 hour lunch break)

Contact

https://linktr.ee/ADN.Becoming
Becoming
Hello semua! Happy Easter! 🐣

Masih dalam suasana paskah, AmoreDio mau mengajak kita semua untuk sama-sama cari tau gimana kita menerima kasih dan membalas pengorbanan Yesus di salib.

Yuk mari join rekoleksi online "BECOMING", hari Sabtu 17 April 2021 jam 10 pagi.

Rekoleksi ini akan dilaksanakan hanya melalui zoom. Ruangan akan dibuka pukul 9:50 AM SGT.

Untuk info lebih lanjut - https://linktr.ee/ADN.Becoming

Save the date and see you there!
---
Prayer Intention of the Month
April 2021
1. Untuk masa Paskah: Ya Bapa, kami bersyukur karena boleh merayakan kebangkitan Yesus yang membawa keselamatan bagi kami. Terima kasih karena Engkau telah mengajak kami untuk menyadari dan menyesali dosa-dosa kami, dan memberikan kami pengampunan. Kiranya kami boleh semakin meneladani Putra-Mu, Yesus Kristus dan semakin bersatu dengan-Mu.
2. Untuk rekoleksi AmoreDio: Ya Bapa, kami juga ingin menyerahkan acara rekoleksi kami pada bulan ini. Tuntunlah dan berkatilah acara kami mulai dari pembicara, panitia yang bertugas serta semua peserta. Semoga acara ini dapat membawa kami lebih mengenal Dikau dan kami boleh belajar untuk berbagi kasih yang telah Engkau berikan kepada kami.
3. Untuk intensi Paus: Kami ingin berdoa bagi mereka yang mempertaruhkan nyawa demi memperjuangkan hak-hak fundamental manusia di bawah rezim kediktatoran, otoriter ataupun negara demokrasi yang sedang dalam krisis.
---
Latest Updates / News
Latest Cell Group Readings
The Great Commandment
Sesi 66 – Week of 4 April 2021
Selamat Paskah! Semoga lewat rangkaian perayaan sengsara, wafat, dan kebangkitan Kristus, kita semakin menyadari betapa besar kasih Tuhan bagi kita. Dan semoga kebangkitan Kristus juga membangkitkan semangat kita untuk menjadi saksi Kristus di dalam hidup kita. Pada CG kali ini kita akan mendalami kembali tentang perintah Tuhan yang paling utama. Apakah perintah Tuhan yang paling utama? Adakah dari kita yang tahu atau ingat akan perintah ini? Dan, apakah kita sudah melakukan perintah ini?
Recent Article
AmoreDio Beach Cleaning
Dalam menyambut Natal, umat Katolik mempersiapkan diri dengan membersihkan diri dari dosa. Dengan semangat yang sama, AmoreDio juga mau mengajak teman-teman untuk membersihkan lingkungan. Membersihkan pantai merupakan salah satu cara untuk menjaga supaya pantai tetap sehat dan dapat dinikmati oleh semua orang. Pada tanggal 12 Desember 2020 lalu, AmoreDio mengadakan acara Beach Cleaning di East […]
---
Contact Us
| Cell Group | Contact Person | Contact Number | Area | Cell Group Day | Start Timing |
| --- | --- | --- | --- | --- | --- |
| Coordinator | Nia | 84065832 | - | - | - |
| CG Eunos | Lala | 90535129 | Eunos | every Monday | 8:00 PM |
| CG OLPS | Cindy | 97163197 | Our Lady of Perpetual Succour classroom | every Monday | 8:00 PM |
| CG River Valley | Olivia | 90077036 | St Bernadette classroom | every Wednesday | 8:00 PM |
| CG West | Christian | 85918117 | Clementi | every Thursday | 8:00 PM |
| CG Youth (for youth under 25 years old) | Chacha | 94578469 | St Bernadette classroom | every Thursday | 8:00 PM |
| CG Central | Andi | 90683590 | St Bernadette classroom | every Thursday | 8:00 PM |
| CG Novena | Elva | 91412414 | Toa Payoh | every Thursday | 8:00 PM |
| CG Bishan | Gladys | 98155563 | Bishan/Buangkok | every Thursday | 8:00 PM |
| CG Holy Family (for married couples) | Kelyn | 97116112 | Please contact Kelyn | every 1st and 3rd Sat of the month | 11:00 AM |