Welcome!
We are AmoreDio, a youth Indonesian Catholic community based in Singapore. You can find out more about our cell groups, ministries and activities here.
Join us as we grow and encounter Jesus' love together!
---
Latest Event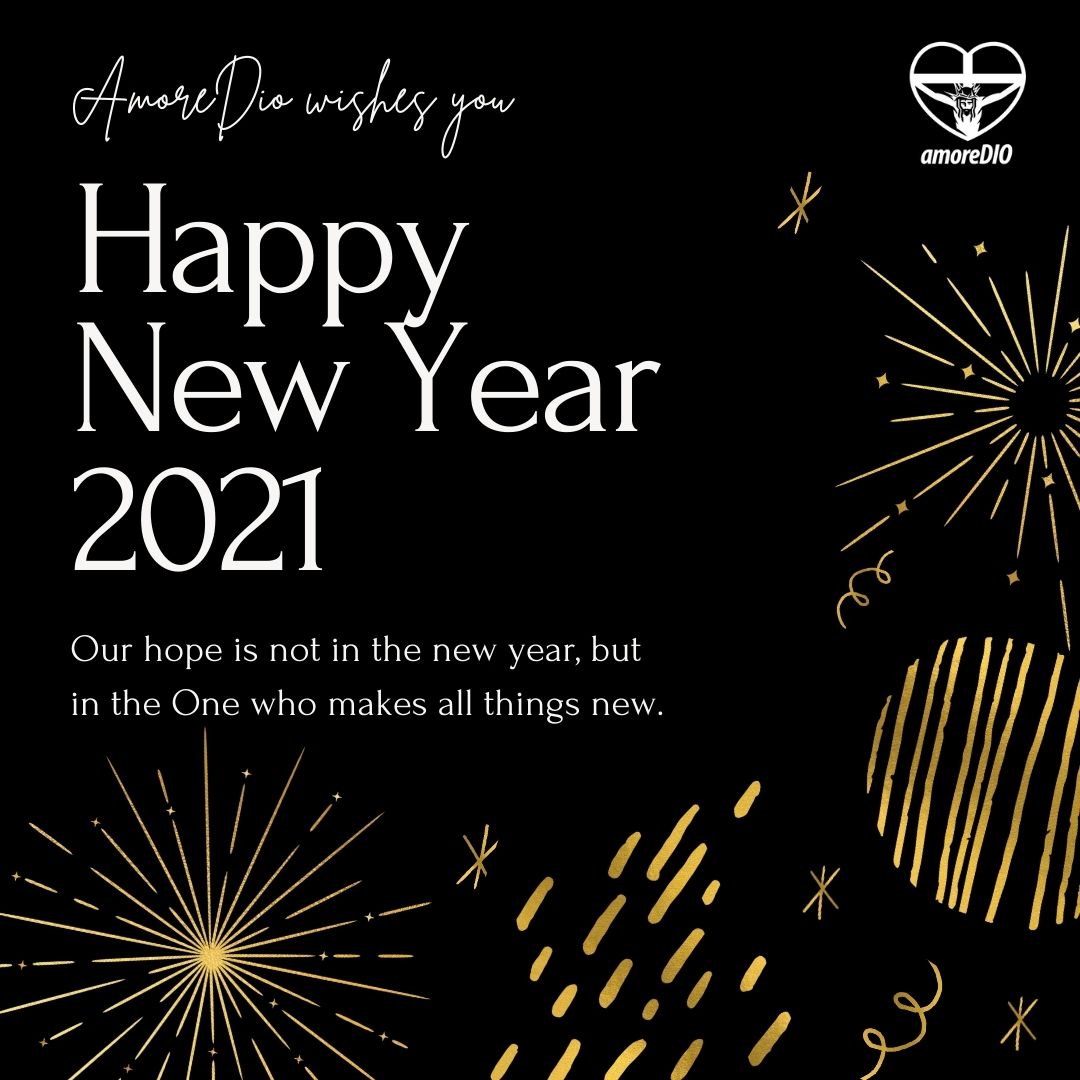 Event Details
Venue

-

Date

Friday, 01 January 2021

Time

00:00
Happy New Year 2021!
AmoreDio wishes you a happy new year!
---
Prayer Intention of the Month
January 2021
1. Allah Bapa, kami ingin mengucap syukur untuk tahun yang baru ini. Semoga Engkau melimpahi kami dengan semangat baru untuk menjalani tahun 2021 seturut dengan kehendak-Mu dan membagikan kasih pada orang-orang di sekitar kami.
2. Kami juga ingin bersyukur untuk situasi yang membaik di Singapura dan boleh memasuki fase 3. Semoga Engkau selalu melindungi kami dan membukakan jalan supaya pandemi ini bisa segera berakhir di seluruh dunia.
3. Ya Bapa, tahun ini Engkau memberikan kami Santo Yosef sebagai panutan hidup kami. Berikanlah kami kepekaan agar dapat mendengarkan suaraMu dan keberanian untuk melindungi orang-orang yang lemah, khususnya dalam keluarga kami. Bantulah kami agar dapat memberikan komitmen penuh dalam pekerjaan yang telah Engkau percayakan pada kami.
4. Untuk intensi Paus. Ya Bapa, berikanlah kami rahmat agar dapat membina hidup berkomunitas yang baik dengan saudara-saudari dari agama yang berbeda, dan agar bisa saling mendoakan dan terbuka satu sama lain.
---
Latest Updates / News
Latest Cell Group Readings
Simbol Liturgi
Sesi 57 - Week of 10th Jan 2021
Minggu lalu, kita sudah belajar mengapa liturgi sangat penting bagi umat Katolik. Di dalam Liturgi memang terdapat banyak tanda dan simbol, tetapi apakah kita sadar apa makna di balik lambang tersebut? Seringkali kita melihat tanda dan simbol tersebut tanpa berpikir banyak atau menghayatinya. Bahkan, beberapa dari kita masih tidak percaya akan simbol Liturgi dan maknanya. Hari ini, kita akan membahas beberapa simbol dan tanda yang kita amati dalam Liturgi dan makna di baliknya.
Recent Article
AmoreDio Beach Cleaning
Dalam menyambut Natal, umat Katolik mempersiapkan diri dengan membersihkan diri dari dosa. Dengan semangat yang sama, AmoreDio juga mau mengajak teman-teman untuk membersihkan lingkungan. Membersihkan pantai merupakan salah satu cara untuk menjaga supaya pantai tetap sehat dan dapat dinikmati oleh semua orang. Pada tanggal 12 Desember 2020 lalu, AmoreDio mengadakan acara Beach Cleaning di East […]
---
Contact Us
| Cell Group | Contact Person | Contact Number | Area | Cell Group Day | Start Timing |
| --- | --- | --- | --- | --- | --- |
| Coordinator | Nia | 84065832 | - | - | - |
| CG Eunos | Lala | 90535129 | Eunos | every Monday | 8:00 PM |
| CG OLPS | Cindy | 97163197 | Our Lady of Perpetual Succour classroom | every Monday | 8:00 PM |
| CG River Valley | Olivia | 90077036 | St Bernadette classroom | every Wednesday | 8:00 PM |
| CG West | Christian | 85918117 | Clementi | every Thursday | 8:00 PM |
| CG Youth (for youth under 25 years old) | Chacha | 94578469 | St Bernadette classroom | every Thursday | 8:00 PM |
| CG Central | Andi | 90683590 | St Bernadette classroom | every Thursday | 8:00 PM |
| CG Novena | Elva | 91412414 | Toa Payoh | every Thursday | 8:00 PM |
| CG Bishan | Gladys | 98155563 | Bishan/Buangkok | every Thursday | 8:00 PM |
| CG Holy Family (for married couples) | Kelyn | 97116112 | Please contact Kelyn | every 1st and 3rd Sat of the month | 11:00 AM |