Welcome!
We are AmoreDio, a youth Indonesian Catholic community based in Singapore. You can find out more about our cell groups, ministries and activities here.
Join us as we grow and encounter Jesus' love together!
---
Latest Event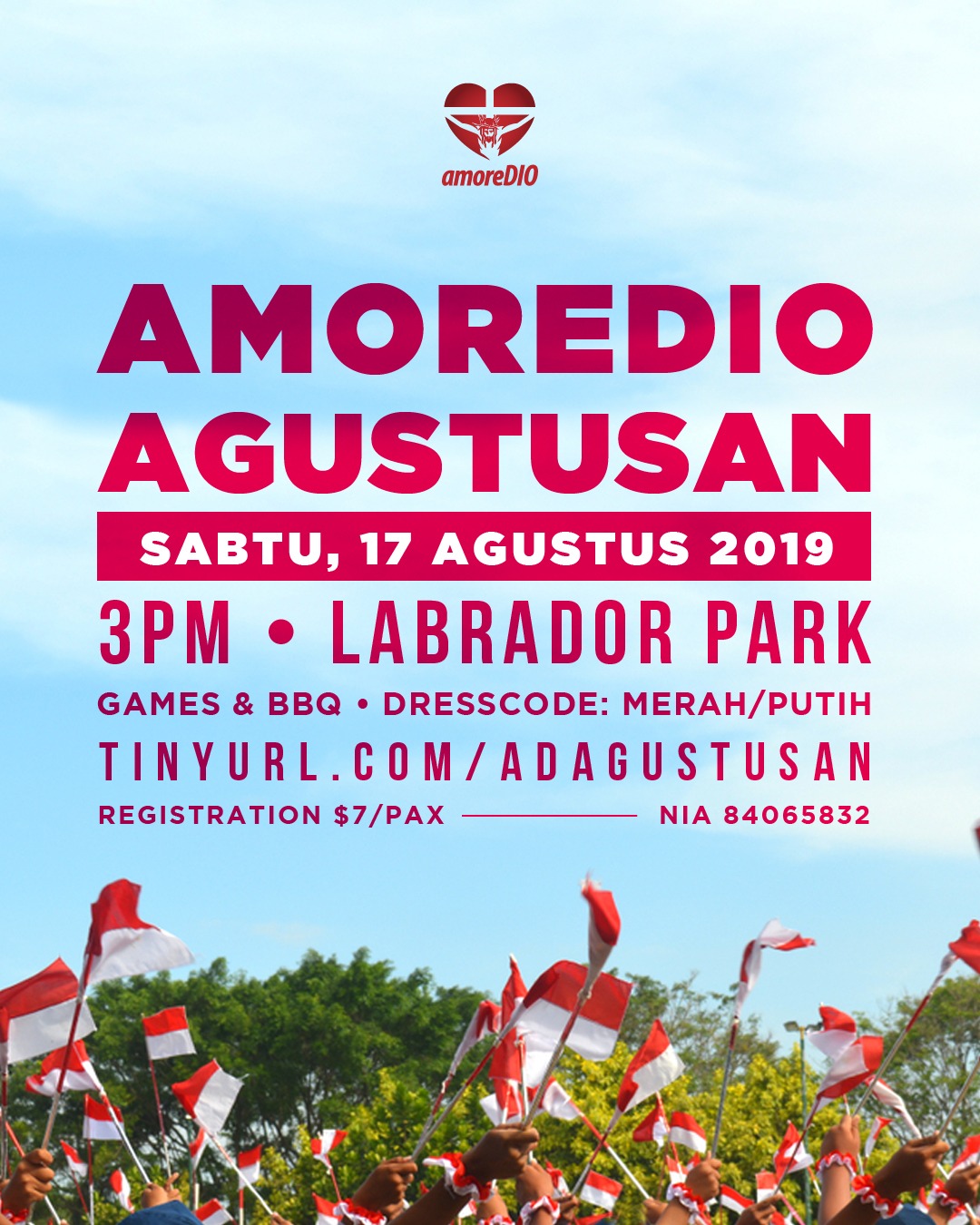 Event Details
Venue

Labrador Park

Date

Saturday, 17 August 2019

Time

15:00

Contact
AmoreDio Agustusan
Tujuh belas Agustus tahun 45! Itulah hari kemerdekaan kita!

Ayo ikut rayakan semangat 17-an di Labrador Park! Ada banyak games seru dan hadiah menarik.

Biaya registrasi $7, harga termasuk makan malam. Please transfer to Nia via PayNow 84065832 and feel free to contact her for more info.

Let's celebrate together with AmoreDio! All are welcome. See you there :)
---
Prayer Intention of the Month
August 2019
 Bapa, kami ingin berdoa untuk kesatuan umat Katolik di seluruh dunia. Penuhilah kami dengan kasihMu sehingga roh pemecah tidak dapat mengganggu kesatuan kami untuk membangun KerajaanMu di dunia.
Kami ingin berdoa untuk Indonesia, berikanlah kedamaian dan kesejahteraan kepada kami. Berkati juga pemimpin-pemimpin kami dengan kebijaksanaan yang berasal dariMu. Kami juga ingin memohon berkatMu untuk acara 17 Aug kami, semoga Engkau berkenan memberikan cuaca yang terbaik dan kami semua bisa menikmati kebersamaan dengan teman-teman cell group.
Untuk intensi Paus, semoga para keluarga, lewat kehidupan doa dan perbuatan kasih mereka, dapat menjadi tempat belajar utama untuk pembangunan manusia.
---
Latest Updates / News
Latest Cell Group Readings
Charity
Sesi 31 - Week of 18th Aug 2019
Biasanya kata charity dikaitkan dengan kerja sosial seperti mengunjungi panti jompo, atau menyumbangkan uang untuk suatu tujuan baik. Sebenarnya kata charity mempunyai arti lebih dari itu. Sering kali dalam Alkitab terjemahan Bahasa Indonesia, Charity diterjemahkan menjadi kata "kasih".
Recent Article
The Resurrection of the Body – Part 1 (Death)
Intro Catatan untuk fasil: materi ini adalah bagian pertama dari materi tentang The Ressurection of the Body. Fasil dapat membaca bagian pertama dan kedua (bahan minggu depan) agar lebih memahami keseluruhan materi ini. "Aku percaya akan Roh Kudus, Gereja Katolik yang Kudus, Persekutuan Para Kudus, Kebangkitan Badan, Kehidupan Kekal". Setiap hari minggu kita mengucapkan kata-kata […]
---
Contact Us
| Cell Group | Contact Person | Contact Number | Area | Cell Group Day | Start Timing |
| --- | --- | --- | --- | --- | --- |
| Coordinator | Nia | 84065832 | - | - | - |
| CG Eunos | Lala | 90535129 | Eunos | every Monday | 8:00 PM |
| CG OLPS | Cindy | 97163197 | Our Lady of Perpetual Succour classroom | every Monday | 8:00 PM |
| CG River Valley | Olivia | 90077036 | St Bernadette classroom | every Wednesday | 8:00 PM |
| CG West | Kitty | 86548810 | Clementi | every Thursday | 8:00 PM |
| CG Youth (for youth under 25 years old) | Chacha | 94578469 | St Bernadette classroom | every Thursday | 8:00 PM |
| CG Central | Andi | 90683590 | St Bernadette classroom | every Thursday | 8:00 PM |
| CG Novena | Elva | 91412414 | Toa Payoh | every Thursday | 8:00 PM |
| CG Bishan | Gladys | 98155563 | Bishan/Buangkok | every Thursday | 8:00 PM |
| CG Holy Family (for married couples) | Kelyn | 97116112 | Please contact Kelyn | every 1st and 3rd Sat of the month | 11:00 AM |