Welcome!
We are AmoreDio, a youth Indonesian Catholic community based in Singapore. You can find out more about our cell groups, ministries and activities here.
Join us as we grow and encounter Jesus' love together!
---
Latest Event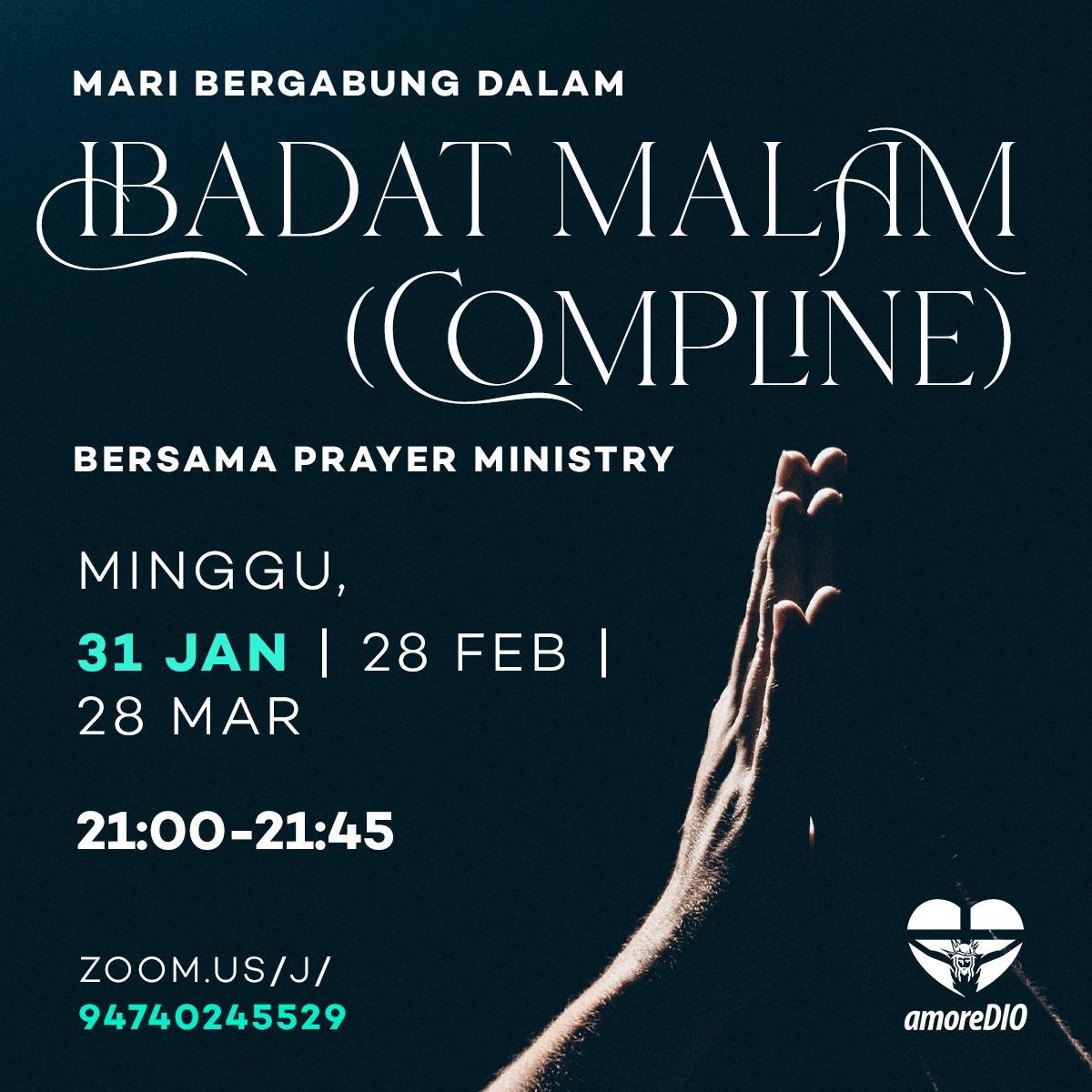 Event Details
Venue

Zoom

Date

Sunday, 31 January 2021

Time

21:00 to 21:45
Ibadat Malam (Compline)
Prayer Ministry mau mengadakan ibadat malam bulanan (via zoom) mulai bulan ini. Kita bakal mendoakan liturgy of the hour utk mlm (compline), doa catholic200SG, litany St Joseph (krn tahun ini year of St Joseph) dan intensi pribadi yg masuk di chat. Yuk join dan doa bareng sebelum tidur dan sebelum masuk minggu yg baru 🙏
---
Prayer Intention of the Month
March 2021
1. Untuk ADN bln Maret. Allah Bapa kami mohon semoga semua anggota CG West diberikan kesatuan hati untuk mempersiapkan acara ini. Semoga pembicara Riko Ariefano diberikan kesehatan, kemantapan hati, dan semangat dalam pelayanannya. Semoga melalui acara ini semua yang ikut bisa lebih mengenal kehendak Tuhan dan merasakan kasih Tuhan dalam hidupnya.
2. Untuk intensi Paus.
Bapa, kami berdoa agar kami dapat mengalami Sakramen Rekonsiliasi dengan kedalaman yang diperbarui, supaya kami dapat merasakan belas kasih-Mu yang tak terbatas.
3. Kami juga ingin memohon perantaraan dari Santo Yosef yang pestanya kami rayakan bulan ini.
Santo Yosef yang setia dan penuh kasih, ajari kami untuk mendengarkan suara Tuhan dan tidak takut untuk percaya akan janji Tuhan. Ajari kami juga untuk mencintai sesama dengan hati yang tulus dan untuk melindungi satu sama lain dengan berani.
---
Latest Updates / News
Latest Cell Group Readings
Menjadi Seorang Katolik di Tempat Kerja dan Sekolah
Sesi 62 - Week of 28th Feb 2021
Dalam hidup kita, kita akan menghabiskan kira-kira 90,000 jam untuk bekerja. Ini setara dengan 1⁄3 hidup kita. Namun, masih banyak umat Katolik yang memisahkan waktu mereka untuk bekerja dari waktu mereka menjadi seorang Katolik. "Di rumah dan di gereja, aku dengan taat menjadi orang Katolik. Kalau di tempat kerja (atau sekolah), aku hanya melakukan tugasku saja— tidak perlu pusing memikirkan nilai-nilai Katolik." Terdengar familiar?
Recent Article
AmoreDio Beach Cleaning
Dalam menyambut Natal, umat Katolik mempersiapkan diri dengan membersihkan diri dari dosa. Dengan semangat yang sama, AmoreDio juga mau mengajak teman-teman untuk membersihkan lingkungan. Membersihkan pantai merupakan salah satu cara untuk menjaga supaya pantai tetap sehat dan dapat dinikmati oleh semua orang. Pada tanggal 12 Desember 2020 lalu, AmoreDio mengadakan acara Beach Cleaning di East […]
---
Contact Us
| Cell Group | Contact Person | Contact Number | Area | Cell Group Day | Start Timing |
| --- | --- | --- | --- | --- | --- |
| Coordinator | Nia | 84065832 | - | - | - |
| CG Eunos | Lala | 90535129 | Eunos | every Monday | 8:00 PM |
| CG OLPS | Cindy | 97163197 | Our Lady of Perpetual Succour classroom | every Monday | 8:00 PM |
| CG River Valley | Olivia | 90077036 | St Bernadette classroom | every Wednesday | 8:00 PM |
| CG West | Christian | 85918117 | Clementi | every Thursday | 8:00 PM |
| CG Youth (for youth under 25 years old) | Chacha | 94578469 | St Bernadette classroom | every Thursday | 8:00 PM |
| CG Central | Andi | 90683590 | St Bernadette classroom | every Thursday | 8:00 PM |
| CG Novena | Elva | 91412414 | Toa Payoh | every Thursday | 8:00 PM |
| CG Bishan | Gladys | 98155563 | Bishan/Buangkok | every Thursday | 8:00 PM |
| CG Holy Family (for married couples) | Kelyn | 97116112 | Please contact Kelyn | every 1st and 3rd Sat of the month | 11:00 AM |