Welcome!
We are AmoreDio, a youth Indonesian Catholic community based in Singapore. You can find out more about our cell groups, ministries and activities here.
Join us as we grow and encounter Jesus' love together!
---
Upcoming Event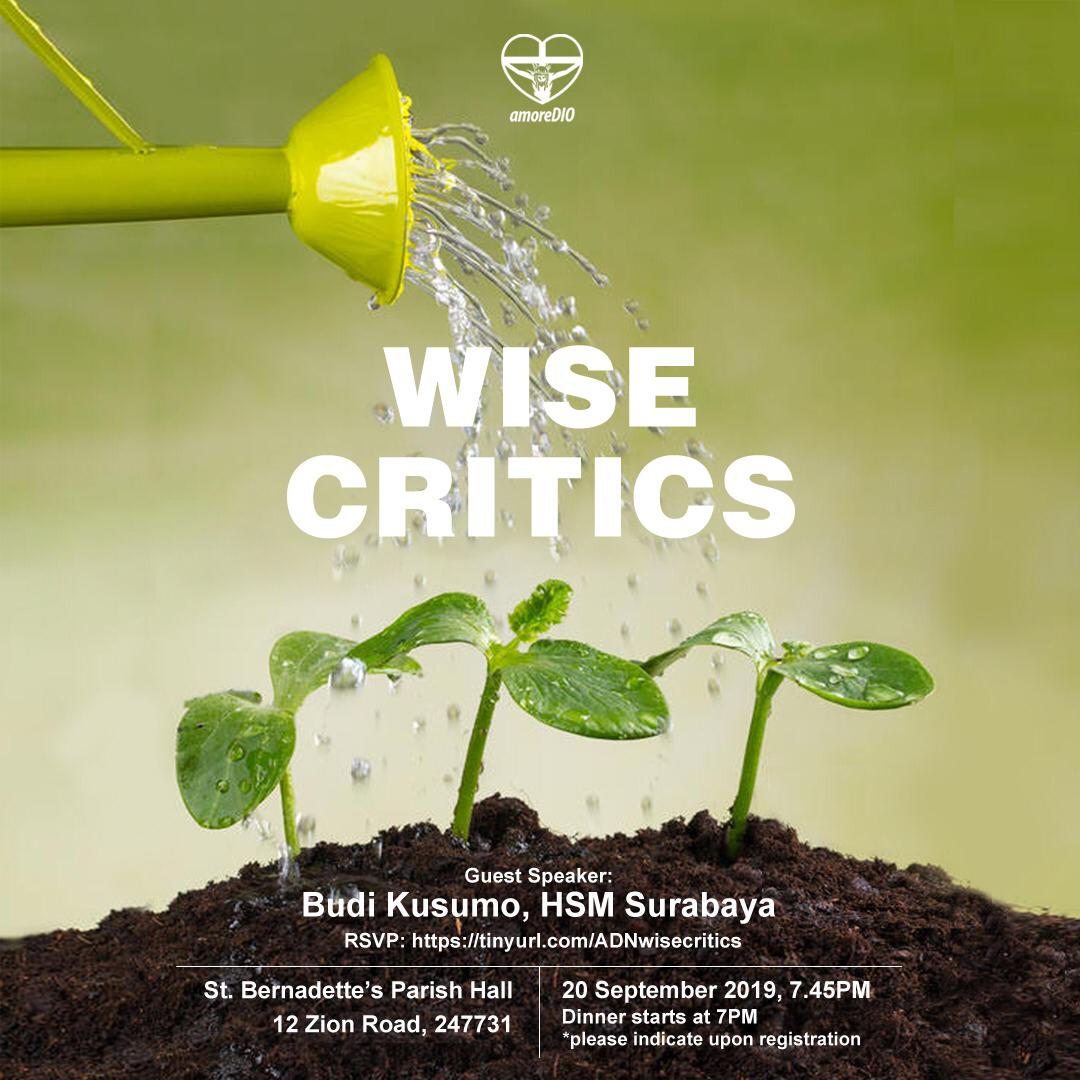 Event Details
Venue

Parish Hall, Church of St Bernadette

Date

Friday, 20 September 2019

Time

19:45 to 21:00

Contact

tinyurl.com/ADNwisecritics
Wise Critics
🤔 Seperti apa sih kritik yang bijaksana dan membangun?
🤨 Kapan dan dimana kita sebaiknya memberi kritik?
🤯 Bagaimana cara menyampaikannya?

Nah, biar dikit-dikit gak senggol bacok cuma gara-gara salah paham dengan kritikan, yuk datang ke AmoreDio Night #WiseCritics!

Pembicara kita, Budi Kusumo, akan berbagi cara bijak nan tepat untuk menyampaikan kritik kepada siapapun yang membutuhkannya.

GOOD NEWS: FREE dinner will be provided upon registration! So don't forget to indicate if you'd like one 🍱
---
Prayer Intention of the Month
September 2019
Kami berdoa untuk kelancaran acara ADN tgl 20 Sep bersama Kak Budi Kusumo dari HSM Surabaya bertema Wise Critics. Berkatilah semua panitia yang bertugas dan semoga acara ini menjadikan semua yang hadir semakin dekat dengan kerajaan-Mu.
Kami juga ingin berdoa untuk acara tgl 21 Sep dengan Kak Budi Kusumo bertema Catholic Relationship Goals. Semoga acara ini menjadi sumber pembelajaran yang berguna dan membawa berkat untuk semua pasangan yang hadir.
Untuk intensi Paus: semoga para politisi, ilmuwan, dan ekonomis dapat bekerja sama untuk melindungi lautan dan samudera di dunia ini.
---
Latest Updates / News
Latest Cell Group Readings
Respect for Nature
Sesi 5 - Week of 8th Sep 2019
We are not God. The earth was here before us and it has been given to us. This allows us to respond to the charge that Judeo-Christian thinking, on the basis of the Genesis account which grants man 'dominion' over the earth, has encouraged the unbridled exploitation of nature by painting him as domineering and destructive by nature. This is not a correct interpretation of the Bible as understood by the Church. Although it is true that we Christians have at times incorrectly interpreted the Scriptures, nowadays we must forcefully reject the notion that our being created in God's image and given dominion over the earth justified absolute dominion over other creatures.
Recent Article
Amoredio Night: The Asian Idol
Berbicara soal role model, adakah orang yang menjadi panutan dalam kehidupan kita untuk lebih mengenal Dia? Kembali berkolaborasi dengan Komunitas Tritunggal Mahakudus (KTM), acara AmoreDio Night (ADN) yang diadakan pada bulan Juni yang baru lalu, di Parish Hall, Gereja St. Bernadette membantu kita menjawab pertanyaan ini. Dengan tema Asian Idol, kita diajak untuk berefleksi kisah […]
---
Contact Us
| Cell Group | Contact Person | Contact Number | Area | Cell Group Day | Start Timing |
| --- | --- | --- | --- | --- | --- |
| Coordinator | Nia | 84065832 | - | - | - |
| CG Eunos | Lala | 90535129 | Eunos | every Monday | 8:00 PM |
| CG OLPS | Cindy | 97163197 | Our Lady of Perpetual Succour classroom | every Monday | 8:00 PM |
| CG River Valley | Olivia | 90077036 | St Bernadette classroom | every Wednesday | 8:00 PM |
| CG West | Kitty | 86548810 | Clementi | every Thursday | 8:00 PM |
| CG Youth (for youth under 25 years old) | Chacha | 94578469 | St Bernadette classroom | every Thursday | 8:00 PM |
| CG Central | Andi | 90683590 | St Bernadette classroom | every Thursday | 8:00 PM |
| CG Novena | Elva | 91412414 | Toa Payoh | every Thursday | 8:00 PM |
| CG Bishan | Gladys | 98155563 | Bishan/Buangkok | every Thursday | 8:00 PM |
| CG Holy Family (for married couples) | Kelyn | 97116112 | Please contact Kelyn | every 1st and 3rd Sat of the month | 11:00 AM |