Welcome!
We are AmoreDio, a youth Indonesian Catholic community based in Singapore. You can find out more about our cell groups, ministries and activities here.
Join us as we grow and encounter Jesus' love together!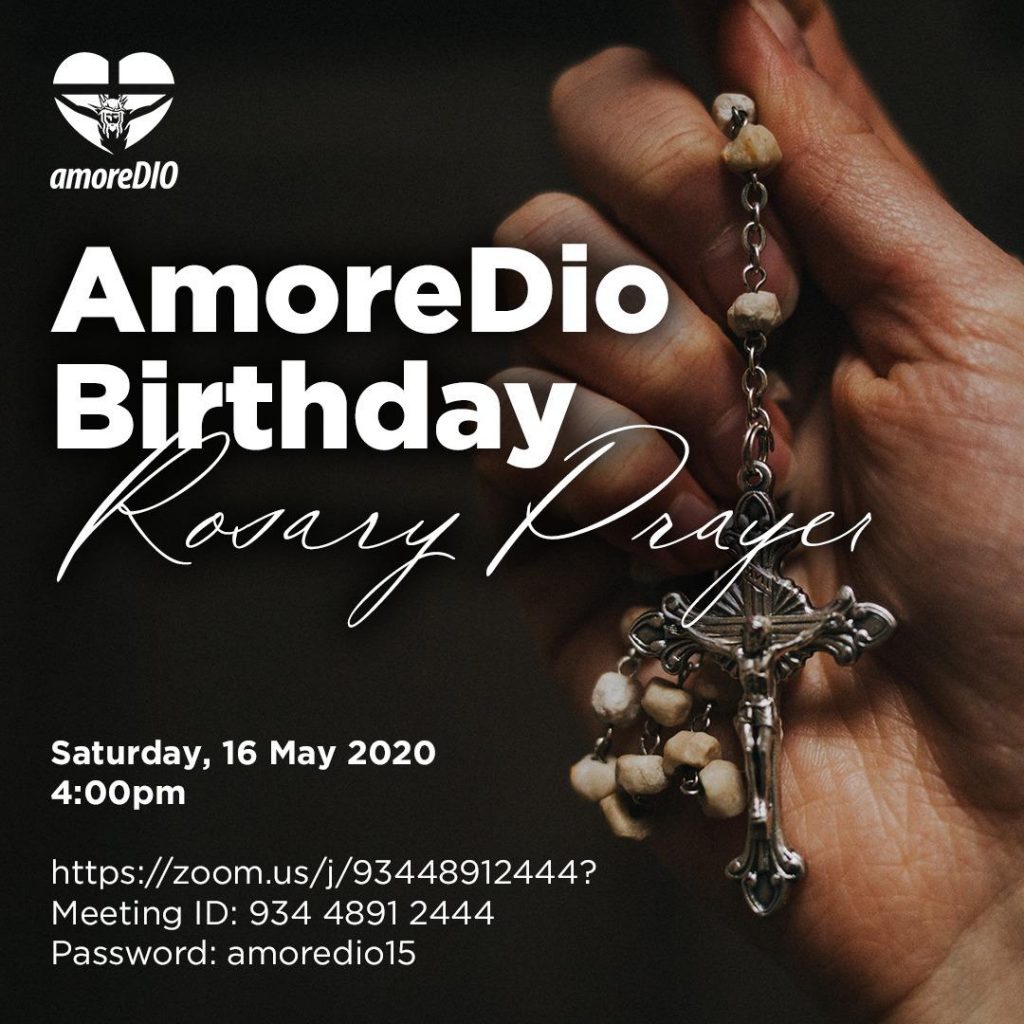 ---
Latest Event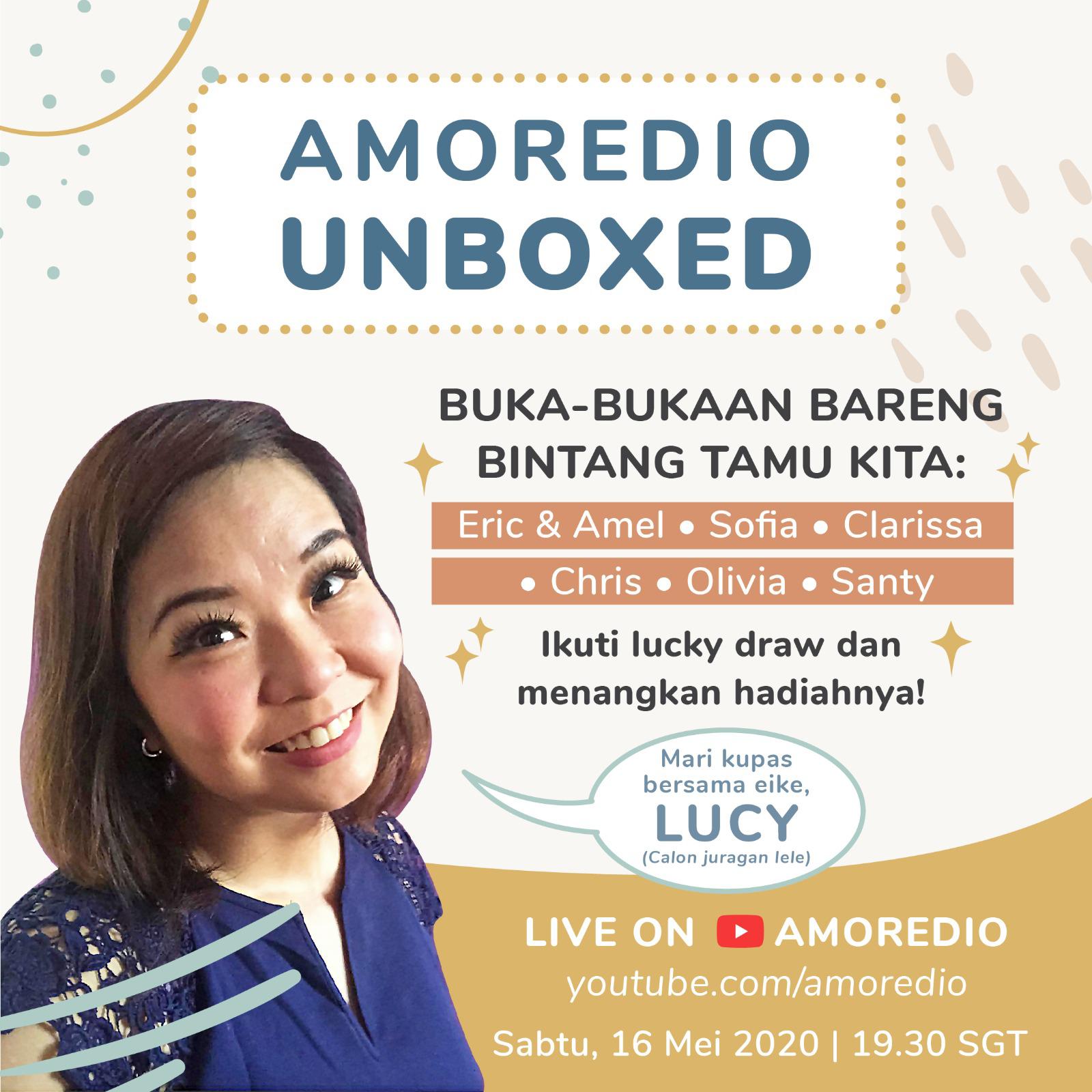 Event Details
Venue

www.youtube.com/amoredio

Date

Saturday, 16 May 2020

Time

19:30
AmoreDio Unboxed
Di hari ulang tahun AmoreDio ke-15 ini, kita akan mengadakan acara BUKA-BUKAAN, dimana anggota-anggota AmoreDio akan menceritakan pengalaman-pengalaman, keluh kesah, canda dan tawa mereka selama menjadi anggota AmoreDio.

Mau tahu seperti apa pengalaman mereka? Mari kita kupas tuntas di AmoreDio Unboxed, tanggal 16 Mei 2020, jam 19:30, di youtube channel kami, youtube.com/amoredio

See you!
---
Prayer Intention of the Month
June 2020
Kami berdoa untuk kelancaran ADN CGRV tentang Theology of the Body. Semoga acara ini dapat menjadi berkat dan bermanfaat bagi teman-teman yang ikut serta.
Semoga pandemi COVID segera berakhir dan melalui hal ini kami dapat mengambil hikmahnya dan membawa kami untuk semakin dekat kepada-Mu, ya Tuhan.
Kami juga ingin berdoa untuk anggota-anggota CG yang sedang mencari pekerjaan di masa sulit ini, semoga Engkau bukakan jalan dan diberikan pekerjaan yang terbaik.
Untuk intensi Paus: kami berdoa agar orang-orang yang menderita dapat menemukan jalan keluar dan memberikan diri untuk merasakan sentuhan Hati Yesus.
---
Latest Updates / News
Latest Cell Group Readings
Five Pillars of the Theology of the Body
Sesi 33 - Week of 31st May 2020 
Theology of the Body (TOB) adalah kumpulan 129 katekese St. JP II yang dia berikan dalam audiensi umum setiap hari Rabu mulai 5 September 1979 sampai 28 November 1984. St. JP II mengajak kita untuk memahami lebih dalam makna memiliki tubuh. TOB memberikan gambaran tentang visi yang diinginkan Tuhan untuk kasih, hubungan antara pria dan wanita, serta perkawinan.
Recent Article
Material Ministry (MM) Podcast
Di sini, Material Ministry (MM) akan menjawab pertanyaan-pertanyaan kalian tentang Cell Group atau pertanyaan mengenai iman Katolik lainnya, melalui podcast seperti di bawah. Di sesi pertama ini, MM akan menjawab 4 pertanyaan yaitu: Sebutkan apa hubungan antara gereja Katolik dan para rasul (Rivaldi) May be the chatolic curch have the document about Asumpta and immaculata […]
---
Contact Us
| Cell Group | Contact Person | Contact Number | Area | Cell Group Day | Start Timing |
| --- | --- | --- | --- | --- | --- |
| Coordinator | Nia | 84065832 | - | - | - |
| CG Eunos | Lala | 90535129 | Eunos | every Monday | 8:00 PM |
| CG OLPS | Cindy | 97163197 | Our Lady of Perpetual Succour classroom | every Monday | 8:00 PM |
| CG River Valley | Olivia | 90077036 | St Bernadette classroom | every Wednesday | 8:00 PM |
| CG West | Christian | 85918117 | Clementi | every Thursday | 8:00 PM |
| CG Youth (for youth under 25 years old) | Chacha | 94578469 | St Bernadette classroom | every Thursday | 8:00 PM |
| CG Central | Andi | 90683590 | St Bernadette classroom | every Thursday | 8:00 PM |
| CG Novena | Elva | 91412414 | Toa Payoh | every Thursday | 8:00 PM |
| CG Bishan | Gladys | 98155563 | Bishan/Buangkok | every Thursday | 8:00 PM |
| CG Holy Family (for married couples) | Kelyn | 97116112 | Please contact Kelyn | every 1st and 3rd Sat of the month | 11:00 AM |