Welcome!
We are AmoreDio, a youth Indonesian Catholic community based in Singapore. You can find out more about our cell groups, ministries and activities here.
Join us as we grow and encounter Jesus' love together!
---
Latest Event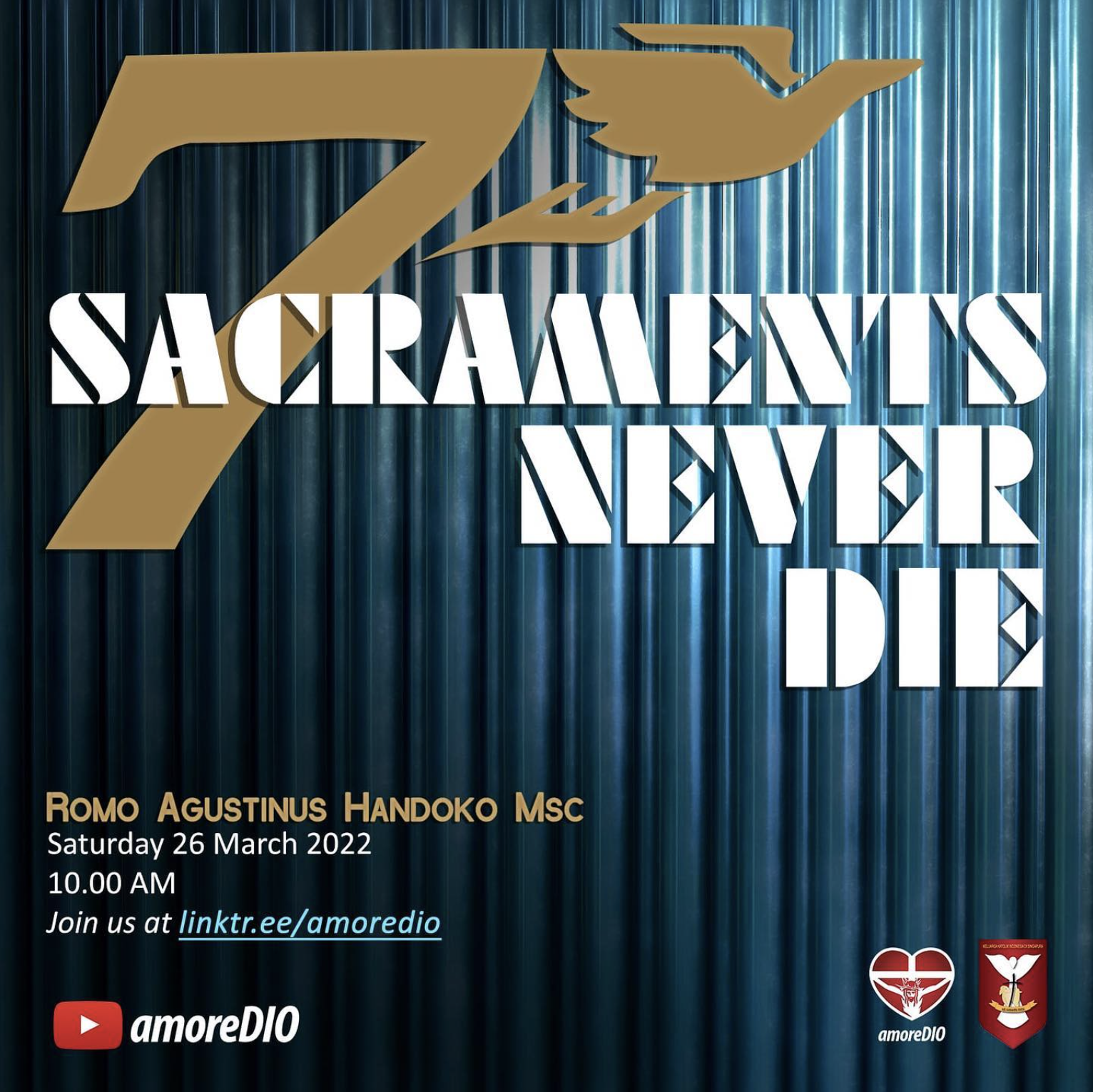 Event Details
Venue

linktr.ee/amoredio

Date

Saturday, 26 March 2022

Time

10:00 to 12:00
7 Sacraments Never Die
Kenapa sih Gereja Katolik punya 7 sakramen? Banyak amat? Bagaimana sakramen bisa membuatku lebih dekat dengan Tuhan? Apakah aku harus menerima semuanya? Yok temukan jawabannya di

AmoreDio Day: 7 Sacraments Never Die bersama Romo Agustinus Handoko, Msc
---
Prayer Intention of the Month
May 2022
1. Kami mengucap syukur untuk 17 tahun berdirinya komunitas kami, Amore Dio. Terima kasih Tuhan untuk penyertaan-Mu dari awal berdirinya komunitas ini hingga sekarang dan untuk orang-orang yang telah Engkau bawa ke komunitas ini. Semoga kami boleh semakin bertumbuh di dalam iman dan membawa lebih banyak lagi anak-anak muda untuk datang kepada-Mu.
2. Kami juga mengucap syukur untuk situasi yang semakin membaik di Singapura dan kegiatan-kegiatan yang boleh kembali dijalankan. Berikanlah kami semangat dalam menjalani hari-hari kami dan semoga kami boleh membagikan kasih kepada orang-orang yang kami jumpai setiap hari.
3. Untuk intensi Bapa Paus bagi anak-anak muda. Semoga kami belajar mencontoh kehidupan Bunda Maria yang mau mendengarkan suara-Mu, merefleksikannya di dalam hati, menaruh kepercayaan penuh kepada-Mu dan mendedikasikan hidup untuk melayani-Mu.
---
Latest Updates / News
Latest Cell Group Readings
Be a Modern Day Saint
Sesi 29 - Week of 15 May 2022
Sobat-sobat Amoredio, hari ini kita akan membahas sesuatu yang lebih berlaku dan bisa diaplikasikan di kehidupan kita sehari-hari. Santo-santa moderen! Santo-santa bukanlah hanya orang-orang tua jaman kuno, jaman medieval atau jaman renaissance saja. Apa itu santo-santa moderen? Siapakah contoh-contohnya? Apakah kita bisa dan/atau perlu menjadi santo-santa moderen? Mari kita bahas lebih lanjut bersama-sama, dan kita akhiri dengan pesan dari Paus Fransiskus.
Recent Article
AmoreDio Beach Cleaning
Dalam menyambut Natal, umat Katolik mempersiapkan diri dengan membersihkan diri dari dosa. Dengan semangat yang sama, AmoreDio juga mau mengajak teman-teman untuk membersihkan lingkungan. Membersihkan pantai merupakan salah satu cara untuk menjaga supaya pantai tetap sehat dan dapat dinikmati oleh semua orang. Pada tanggal 12 Desember 2020 lalu, AmoreDio mengadakan acara Beach Cleaning di East […]
---
Contact Us
| Cell Group | Contact Person | Contact Number | Area | Cell Group Day | Start Timing |
| --- | --- | --- | --- | --- | --- |
| Coordinator | Nia | 84065832 | - | - | - |
| CG Eunos | Joice | 87401674 | Eunos | every Monday | 8:00 PM |
| CG OLPS | Telly | 97773392 | Our Lady of Perpetual Succour classroom | every Monday | 8:00 PM |
| CG River Valley | Rosie | 81225413 | St Bernadette classroom | every Wednesday | 8:00 PM |
| CG West | Arliando | 98950484 | Clementi | every Thursday | 8:00 PM |
| CG Youth (for youth under 25 years old) | Givensius | +6281217220278 | St Bernadette classroom | every Friday | 8:00 PM |
| CG Sabtu | Yohanes Kevin | 83935173 | Online | every Saturday | 10:00 AM |
| CG Novena | Elva | 91412414 | Toa Payoh | every Tuesday | 8:00 PM |
| CG Bishan | Theodore | 97510743 | Bishan/Buangkok | every Thursday | 8:00 PM |
| CG Holy Family (for married couples) | Amanda | 84264875 | Please contact Amanda | every 1st and 3rd Sat of the month | 11:00 AM |