Welcome!
We are AmoreDio, a youth Indonesian Catholic community based in Singapore. You can find out more about our cell groups, ministries and activities here.
Join us as we grow and encounter Jesus' love together!
Prayer Intention of the Month
April 2019
Ya Bapa kami berdoa semoga pemilu Indonesia yang akan berlangsung bulan ini, dapat memberikan kesatuan masyarakat Indonesia. Berikanlah seorang pemimpin yang Kau berkati dan dapat memajukan Indonesia ke depannya lagi. Berkatilah negara pertiwi kami, Indonesia.
Kami juga ingin berdoa untuk pemilu Amoredio yang akan menentukan Koor/CGL/ Ministry Leader. Berkatilah dan berikanlah rahmatMu kepada komunitas kami dan para pemimpin yang baru.
Untuk intensi Bapa Paus bulan ini. Kami ingin mendoakan para dokter dan relawan di medan perang yang mempertaruhkan nyawa mereka demi menyelamatkan nyawa orang lain.
---
Latest Event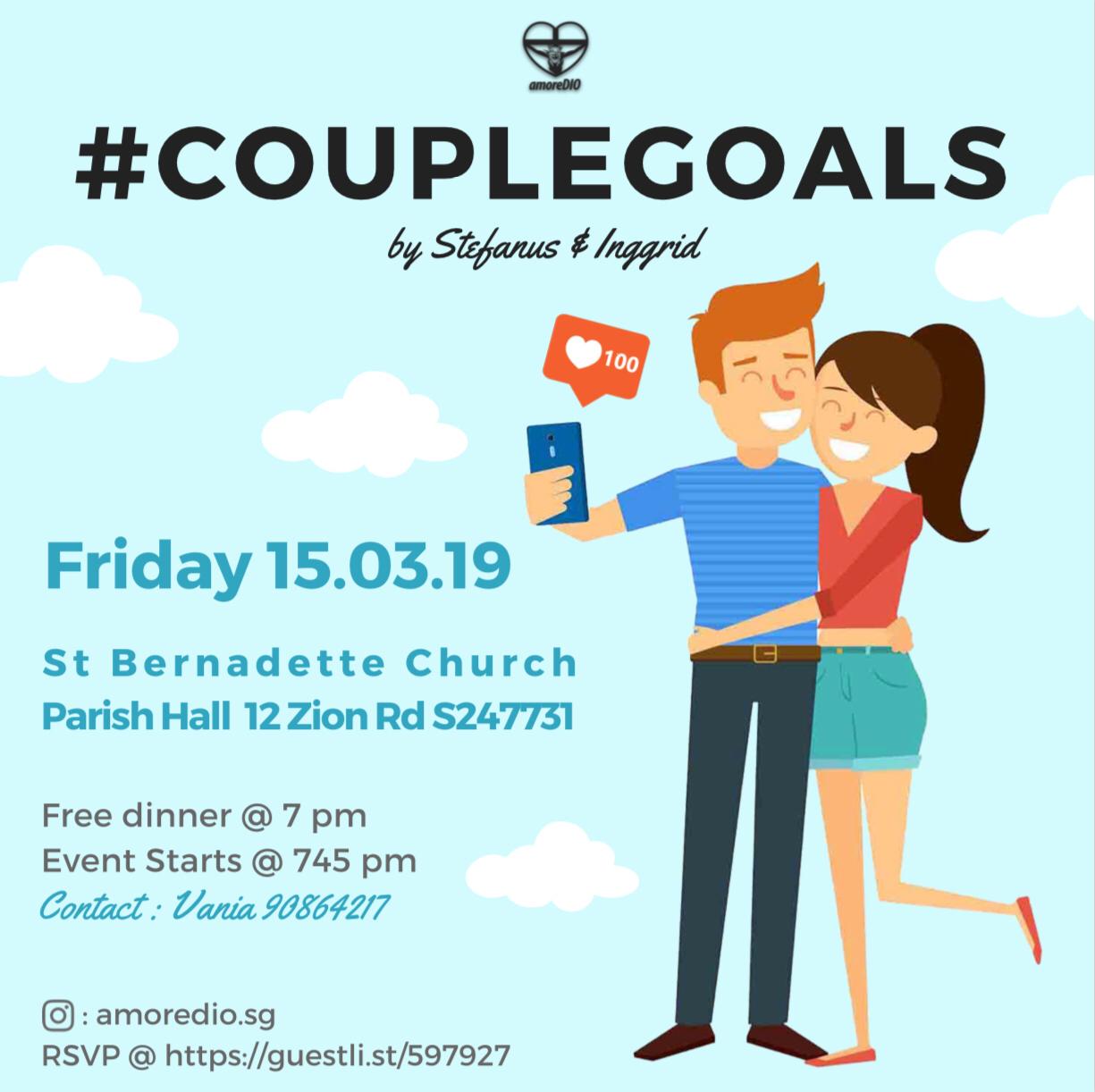 Event Details
Venue

St. Bernadette Church
Parish Hall 12 Zion Road
S247731

Date

Friday, 15 March 2019

Time

19:00

Contact

RSVP @ https://guestli.st/597927
#CoupleGoals
Single? In a relationship? Married?

What's your #CoupleGoals?

Is it about having cool pictures on Instagram? The amazing trips across the world? The big shiny diamond for your partner? Or could it be something more..

Come and find out more on AmoreDio Night #CoupleGoals!

Church of St Bernadette, Parish hall.
15th of March 2019, 7 pm

See you there!

RSVP: https://guestli.st/597927
---
Latest Updates / News
Latest Cell Group Readings
Creed, Session 6: The Paschal Mystery
Sesi 21 - Week of 7 Apr 2019
Perhaps the Cross of Jesus has become almost too familiar. Some of us might see images of crosses and crucifixes so often that we may not realize that in the ancient world, the cross was a horrifying image—a little like an electric chair is today. Yet, the cross is the primary symbol of our faith, through which Jesus has given us the gift of salvation and eternal life. It is through Jesus' death on that instrument of torture that He gave us the gift of salvation and eternal life.
Recent Article
God of All Comfort
Orang bilang kalau seorang pemimpin haruslah bisa menjadi teladan bagi anggota-anggotanya, dan prinsip inilah juga diterapkan kepada para servant leaders di AmoreDio. Teman-teman yang menjadi servant leaders diharapkan untuk bisa mendalami iman Katolik mereka dengan lebih lagi, melalui devosi harian, datang ke seminar / acara-acara Katolik, dan recently dengan membaca buku-buku yang berhubungan dengan Katolisasi. Beberapa bulan […]