Welcome!
We are AmoreDio, a youth Indonesian Catholic community based in Singapore. You can find out more about our cell groups, ministries and activities here.
Join us as we grow and encounter Jesus' love together!
Prayer Intention of the Month
December 2018
Bapa kami mohon penyertaan-Mu untuk persiapan acara natal KKIS, mulai dari dekorasi sampai penyelenggaraan pada hari-H semoga berjalan lancar.
Juga untuk setiap dari kami, semoga pada masa advent kami semakin bertumbuh dalam iman dan bersuka-cita menantikan perayaan kelahiran Yesus.
Intensi Paus: Untuk orang-orang yang terlibat dalam pelayanan dan penyebaran iman kepada budaya-budaya yang berbeda, semoga dapat menemukan bahasa yang sesuai dengan kondisi saat ini.
---
Latest Event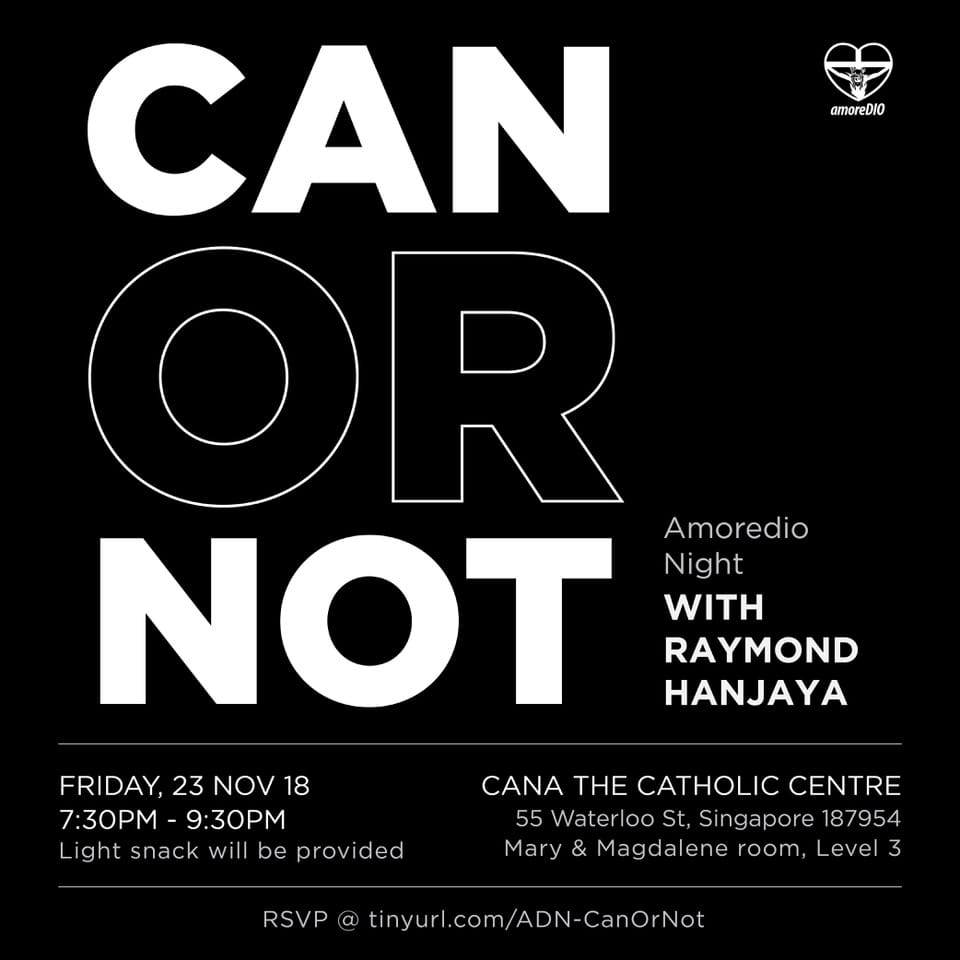 Event Details
Venue

CANA the Catholic Centre

Date

Friday, 23 November 2018

Time

19:30 to 21:30

Contact

RSVP here 👉🏻 http://tinyurl.com/ADN-CanOrNot
Can or Not?
Hi sobat2 semua.

What do you think as a Catholic?

HOW ABOUT...

Smoking?

Gossiping?

Clubbing?

Tattoo?

White lies?

Can we do this? CAN or NOT??

If you guys ever kaypoh the Catholic point of view about these grey areas, join us at AmoreDio Night with Ko Raymond Hanjaya from Surabaya!

The hitz speaker that will blow our mind!

Don't say we bojio hor!

IMPORTANT note : Delicious snacks will be distributed from 7pm-7.30pm. So don't be late!

See you there!

AmoreDio crew
---
Latest Updates / News
Latest Cell Group Readings
Panggilan Hidup Kristiani
Sesi 11 – Week of 9th Dec 2018
Untuk CG kali ini kita mau mensharingkan tentang panggilan hidup. Bagi kita-kita yang sekarang sedang kuliah, belajar dan juga bekerja, pastinya kita pernah menanyakan atau bahkan sedang mencari tahu apa sih panggilan hidup kita.
Recent Article
What Should I Do in Adoration?
(Image taken from Life Teen) Entering an adoration room for the first time can be a calming and yet a little intimidating experience at the same time. Not because we fear being with Jesus in prayer, but rather wondering what should we do when we are in the room. As we aim to be closer […]