Welcome!
We are AmoreDio, a youth Indonesian Catholic community based in Singapore. You can find out more about our cell groups, ministries and activities here.
Join us as we grow and encounter Jesus' love together!
---
Latest Event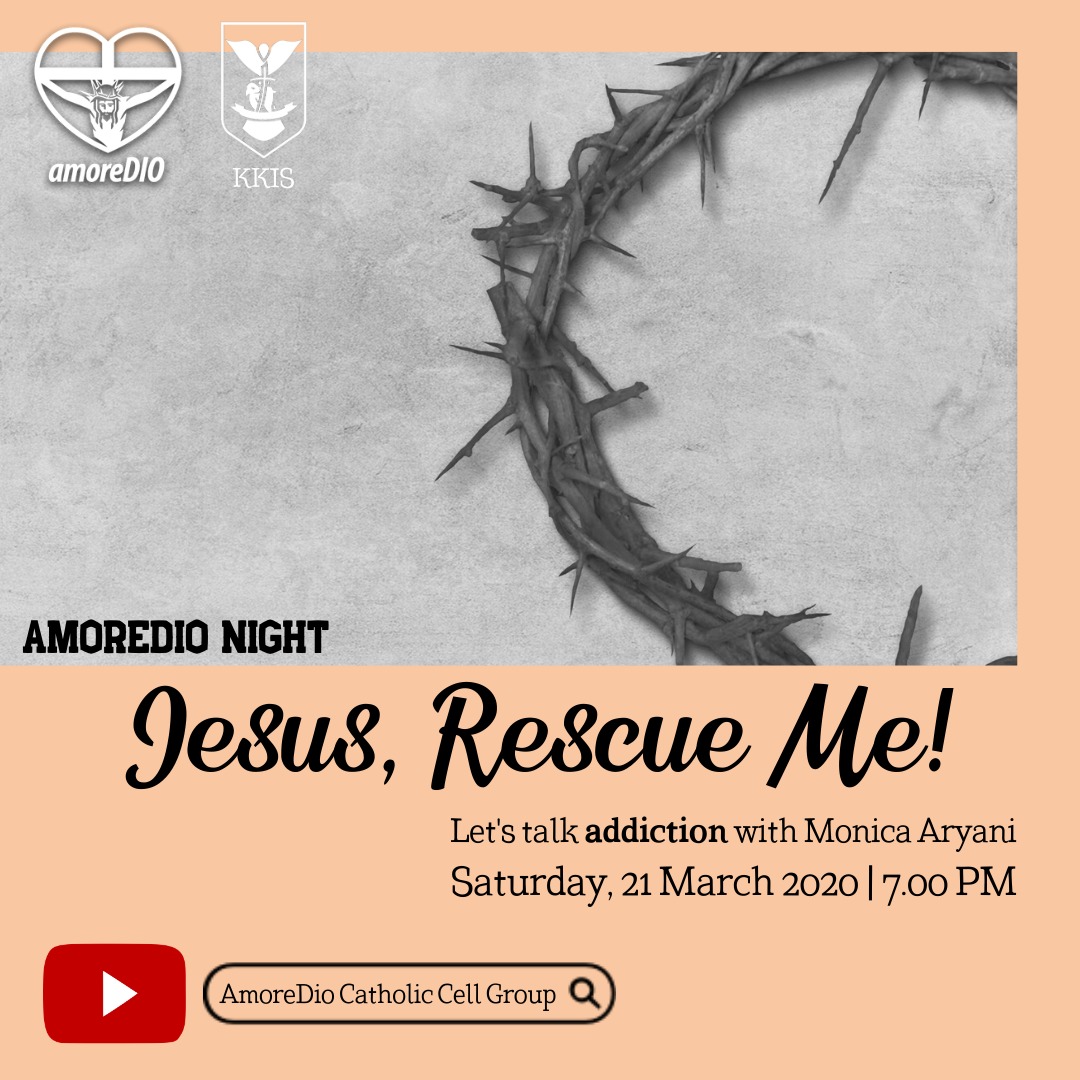 Event Details
Venue

AmoreDio YouTube Channel: AmoreDio Catholic Cell Group

Date

Saturday, 21 March 2020

Time

19:00
Jesus, Rescue Me!
Mark your calendar for the first-ever online AmoreDio Night! Let's talk about addictions with our speaker: Monica Aryani and let's allow Jesus to come and rescue us from our sinful habits.

Tune in as we overcome our addiction in the Jesus, Rescue Me!
🗓 Saturday, 21 March 2020
⏰ 7 PM
💒 YouTube Channel -> AmoreDio Catholic Cell Group

Don't forget to subscribe!
---
Prayer Intention of the Month
April 2020
Bapa, lindungilah umatMu di seluruh dunia dari infeksi virus covid-19 ini dan semoga Engkau berkenan memberikan kesembuhan bagi orang-orang yang terinfeksi. Jauhkanlah kami dari rasa takut dan bantulah kami untuk selalu dekat dengan-Mu.
Bapa, kami berdoa semoga sukacita Paskah boleh memenuhi hati kami walaupun tahun ini kami tidak bisa merayakan seperti biasa. Kami percaya kebangkitan-Mu membawa kemenangan bagi kami. Semoga kami boleh selalu siap untuk mengikuti-Mu.
Untuk intensi Paus: semoga orang-orang yang jatuh dalam kecanduan boleh mendapatkan bantuan untuk bisa bebas.
---
Latest Updates / News
Latest Cell Group Readings
Sin of Gluttony
Sesi 26 – Week of 29 March 2020
Salah satu hal yang membuat banyak orang jauh dari Tuhan itu karena secara sekilas, kita berpikir bahwa Tuhan mengeluarkan banyak larangan yang kemudian mengambil sukacita dari dalam hidup kita. Hal ini membuat banyak orang ragu untuk mengikuti Tuhan karena seolah-olah apapun yang kita ingin lakukan atau yang membawa kebahagiaan dalam hidup kita dilarang oleh Tuhan.
Recent Article
Material Ministry (MM) Podcast
Di sini, Material Ministry (MM) akan menjawab pertanyaan-pertanyaan kalian tentang Cell Group atau pertanyaan mengenai iman Katolik lainnya, melalui podcast seperti di bawah. Di sesi pertama ini, MM akan menjawab 4 pertanyaan yaitu: Sebutkan apa hubungan antara gereja Katolik dan para rasul (Rivaldi) May be the chatolic curch have the document about Asumpta and immaculata […]
---
Contact Us
| Cell Group | Contact Person | Contact Number | Area | Cell Group Day | Start Timing |
| --- | --- | --- | --- | --- | --- |
| Coordinator | Nia | 84065832 | - | - | - |
| CG Eunos | Lala | 90535129 | Eunos | every Monday | 8:00 PM |
| CG OLPS | Cindy | 97163197 | Our Lady of Perpetual Succour classroom | every Monday | 8:00 PM |
| CG River Valley | Olivia | 90077036 | St Bernadette classroom | every Wednesday | 8:00 PM |
| CG West | Christian | 85918117 | Clementi | every Thursday | 8:00 PM |
| CG Youth (for youth under 25 years old) | Chacha | 94578469 | St Bernadette classroom | every Thursday | 8:00 PM |
| CG Central | Andi | 90683590 | St Bernadette classroom | every Thursday | 8:00 PM |
| CG Novena | Elva | 91412414 | Toa Payoh | every Thursday | 8:00 PM |
| CG Bishan | Gladys | 98155563 | Bishan/Buangkok | every Thursday | 8:00 PM |
| CG Holy Family (for married couples) | Kelyn | 97116112 | Please contact Kelyn | every 1st and 3rd Sat of the month | 11:00 AM |