Welcome!
We are AmoreDio, a youth Indonesian Catholic community based in Singapore. You can find out more about our cell groups, ministries and activities here.
Join us as we grow and encounter Jesus' love together!
---
Latest Event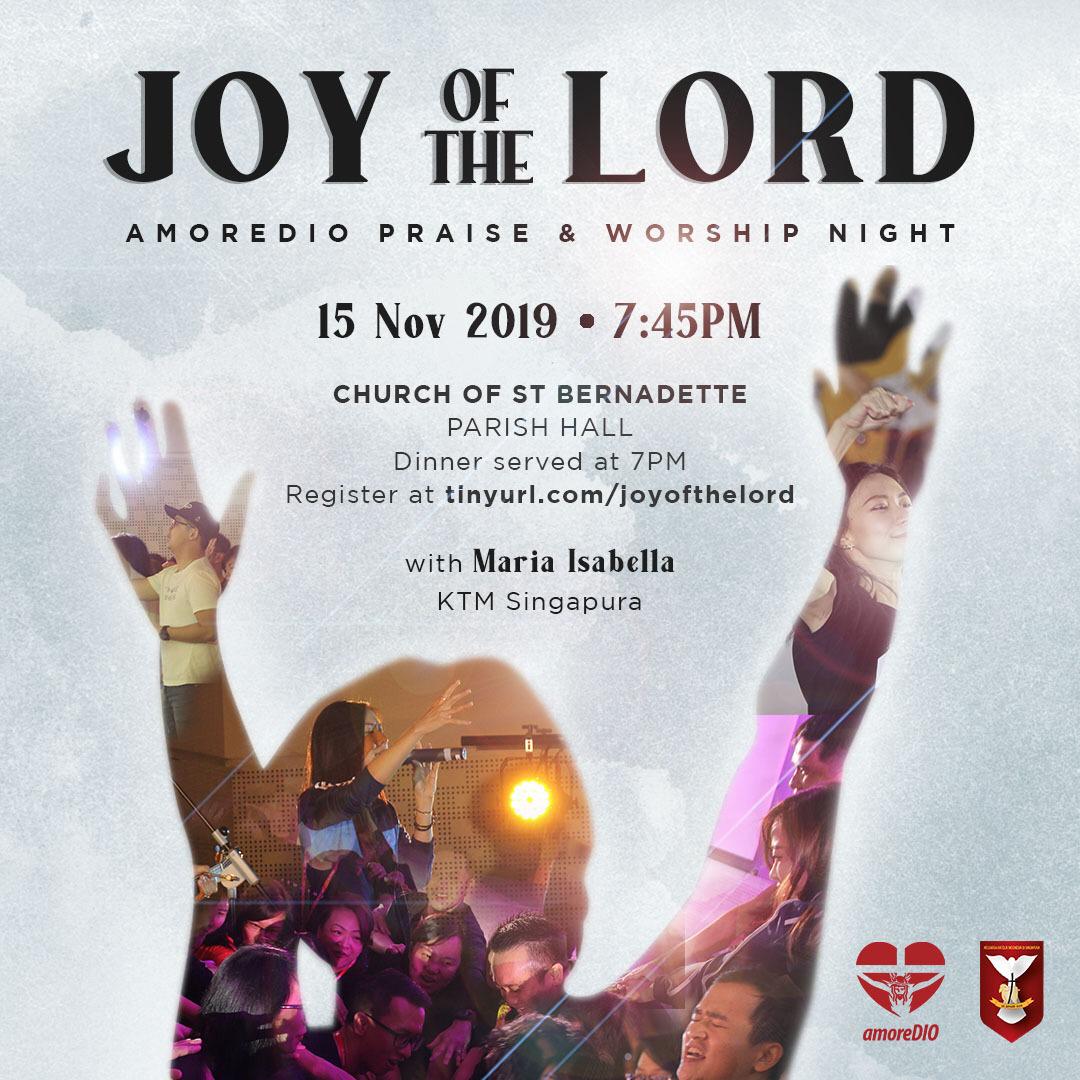 Event Details
Venue

Church of St Bernadette, Parish Hall.

Date

Friday, 15 November 2019

Time

19:00

Contact

https://tinyurl.com/joyofthelord
Joy of the Lord
Why do we need praise and worship?

Does it make you feel good? Of course it does.

When you have a bad day, singing and worshipping, giving it your all to God will surely make you feel better.

But is that the only purpose? The bible says "The Joy of the Lord is our Strength" (Nehemiah 8:10). When you praise and worship fully, you participate in God's happiness and His happiness is our strength.

Come and join AmoreDio Praise & Worship team as we celebrate in the Joy of the Lord! 🗓 Friday, 15 November 2019
⏰ 7pm Free dinner | 7.45pm event start
💒 Parish Hall, Church of St. Bernadette

RSVP here
https://tinyurl.com/joyofthelord
---
Prayer Intention of the Month
November 2019
Ya Bapa, berkatilah persiapan acara PW night kami tgl 15 Nov yang akan datang. Semoga lewat acara ini, kami semua boleh bersukacita karena tahu Engkau selalu menyertai dalam segala situasi hidup kami. Semoga rahmat-Mu menyertai tim PW dan Bella yang akan membawakan bahan dalam acara ini.
Bapa, kami juga ingin berdoa untuk arwah-arwah yang ada di api penyucian. Semoga kasih-Mu menyentuh mereka dan mereka boleh segera hidup bersama-Mu di surga.
Untuk intensi Paus, semoga semangat untuk berdialog, menjalin persahabatan dan rekonsiliasi boleh memenuhi negara-negara Timur Tengah dimana umat dari berbagai agama hidup bersama.
---
Latest Updates / News
Latest Cell Group Readings
Discernment of Spirits and God's Calling
Sesi 12 - Week of 17th November 2019
CG kali ini kita akan belajar bagaimana kita mencari dan mendengarkan panggilan Tuhan untuk hidup kita melalui discernment of spirit, di bawah ini penjelasan apa itu discernment of spirit dan ciri ciri dari panggilan Tuhan melalui discernment.
Recent Article
Amoredio Night: The Asian Idol
Berbicara soal role model, adakah orang yang menjadi panutan dalam kehidupan kita untuk lebih mengenal Dia? Kembali berkolaborasi dengan Komunitas Tritunggal Mahakudus (KTM), acara AmoreDio Night (ADN) yang diadakan pada bulan Juni yang baru lalu, di Parish Hall, Gereja St. Bernadette membantu kita menjawab pertanyaan ini. Dengan tema Asian Idol, kita diajak untuk berefleksi kisah […]
---
Contact Us
| Cell Group | Contact Person | Contact Number | Area | Cell Group Day | Start Timing |
| --- | --- | --- | --- | --- | --- |
| Coordinator | Nia | 84065832 | - | - | - |
| CG Eunos | Lala | 90535129 | Eunos | every Monday | 8:00 PM |
| CG OLPS | Cindy | 97163197 | Our Lady of Perpetual Succour classroom | every Monday | 8:00 PM |
| CG River Valley | Olivia | 90077036 | St Bernadette classroom | every Wednesday | 8:00 PM |
| CG West | Christian | 85918117 | Clementi | every Thursday | 8:00 PM |
| CG Youth (for youth under 25 years old) | Chacha | 94578469 | St Bernadette classroom | every Thursday | 8:00 PM |
| CG Central | Andi | 90683590 | St Bernadette classroom | every Thursday | 8:00 PM |
| CG Novena | Elva | 91412414 | Toa Payoh | every Thursday | 8:00 PM |
| CG Bishan | Gladys | 98155563 | Bishan/Buangkok | every Thursday | 8:00 PM |
| CG Holy Family (for married couples) | Kelyn | 97116112 | Please contact Kelyn | every 1st and 3rd Sat of the month | 11:00 AM |