Welcome!
We are AmoreDio, a youth Indonesian Catholic community based in Singapore. You can find out more about our cell groups, ministries and activities here.
Join us as we grow and encounter Jesus' love together!
---
Latest Event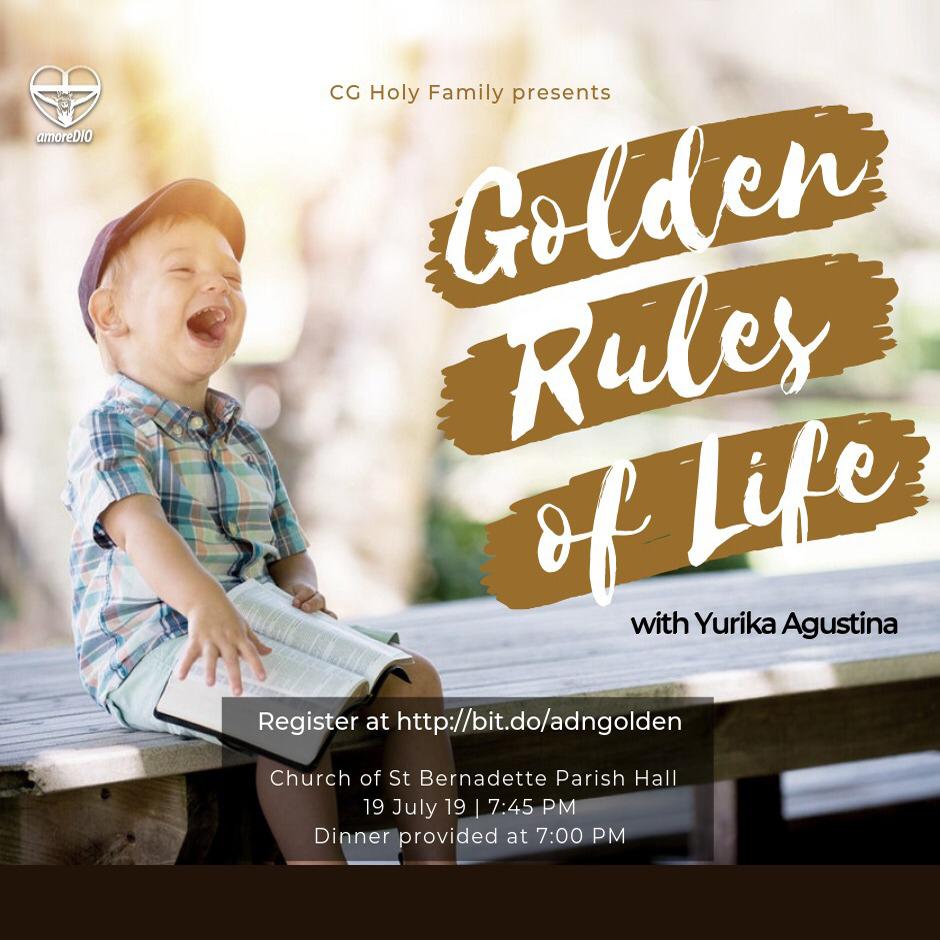 Event Details
Venue

Church of St Bernadette Parish Hall

Date

Friday, 19 July 2019

Time

19:45. Dinner provided at 19:00

Contact
Golden Rules of Life
Rules are everywhere. Di sekolah ada peraturan, di kantor ada peraturan..

What about yourself? What is your rule of life? Has it been working out for you?

..Or maybe you hate rules?

Is there something you find missing?

Come and learn about the Golden Rules of Life bersama di
AmoreDio Night: Golden Rules of Life!

Register at http://bit.do/adngolden

#amoredio #amorediosg #ADNGolden
---
Prayer Intention of the Month
July 2019
Untuk servant leaders camp di Batam tgl 13 dan 14 juli, kami mohon untuk kelancaran persiapan dan pelaksanaannya. Khususnya kami berdoa untuk komitmen para peserta dan juga untuk oom Hanjaya dari HSM surabaya yang akan membantu dalam memberikan arahan dan pengajaran. Biar beliau selalu dilindungi dan dijadikan menjadi alat-Mu untuk menuntun para servant leaders AmoreDio.
Untuk ADN cg holy family di bulan ini, sekiranya Engkau tuntun persiapan CGHF dan juga persiapan kak Yurika yang akan menjadi pewarta kami. Biarlah dia dapat menyampaikan "nilai-nilai penting kehidupan" yang juga merupakan tema dari ADN kali ini. Ya Bapa, jadikanlah juga ADN ini menjadi tempat dan sarana-Mu untuk menyentuh hati dari setiap diri kami.
Intensi Paus:
Supaya para penegak hukum sekiranya bekerja dengan integritas tinggi dan semoga ketidakadilan yang berlangsung di dunia ini terkalahkan.
---
Latest Updates / News
Latest Cell Group Readings
Lima "Tanda" Keluarga Katolik
Sesi 28 - Week of 27th July 2019
"Selain dari cara kita berdoa (tanda salib dan aturan gereja) apakah perlu keluarga Katolik berbeda dengan keluarga non-Katolik? Kalau memangnya, seperti apa?
Recent Article
The Resurrection of the Body – Part 1 (Death)
Intro Catatan untuk fasil: materi ini adalah bagian pertama dari materi tentang The Ressurection of the Body. Fasil dapat membaca bagian pertama dan kedua (bahan minggu depan) agar lebih memahami keseluruhan materi ini. "Aku percaya akan Roh Kudus, Gereja Katolik yang Kudus, Persekutuan Para Kudus, Kebangkitan Badan, Kehidupan Kekal". Setiap hari minggu kita mengucapkan kata-kata […]
---
Contact Us
| Cell Group | Contact Person | Contact Number | Area | Cell Group Day | Start Timing |
| --- | --- | --- | --- | --- | --- |
| Coordinator | Nia | 84065832 | - | - | - |
| CG Eunos | Lala | 90535129 | Eunos | every Monday | 8:00 PM |
| CG OLPS | Cindy | 97163197 | Our Lady of Perpetual Succour classroom | every Monday | 8:00 PM |
| CG River Valley | Olivia | 90077036 | St Bernadette classroom | every Wednesday | 8:00 PM |
| CG West | Kitty | 86548810 | Clementi | every Thursday | 8:00 PM |
| CG Youth (for youth under 25 years old) | Chacha | 94578469 | St Bernadette classroom | every Thursday | 8:00 PM |
| CG Central | Andi | 90683590 | St Bernadette classroom | every Thursday | 8:00 PM |
| CG Novena | Elva | 91412414 | Toa Payoh | every Thursday | 8:00 PM |
| CG Bishan | Gladys | 98155563 | Bishan/Buangkok | every Thursday | 8:00 PM |
| CG Holy Family (for married couples) | Kelyn | 97116112 | Please contact Kelyn | every 1st and 3rd Sat of the month | 11:00 AM |