Welcome!
We are AmoreDio, a youth Indonesian Catholic community based in Singapore. You can find out more about our cell groups, ministries and activities here.
Join us as we grow and encounter Jesus' love together!
---
Latest Event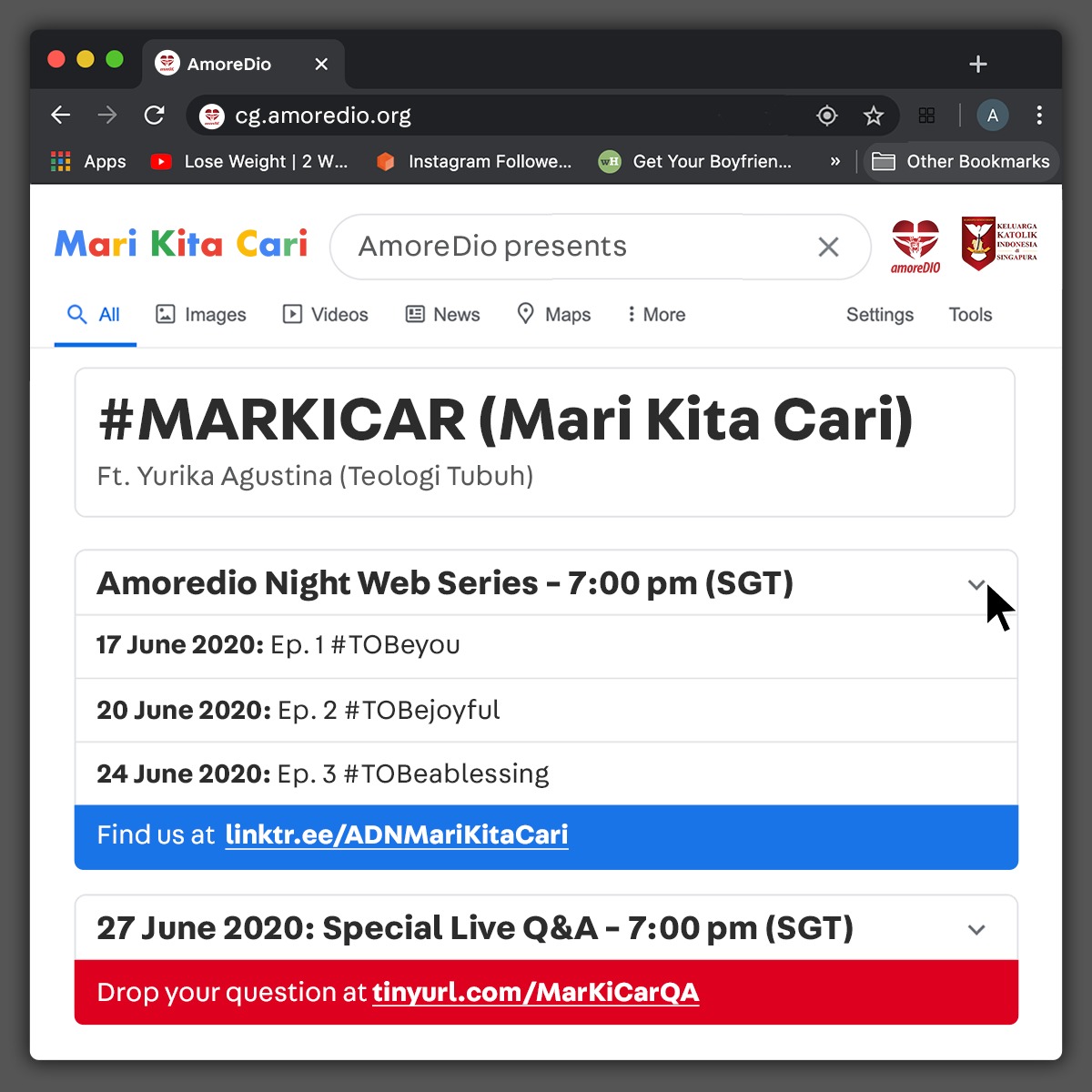 Event Details
Venue

www.youtube.com/AmoreDio

Date

Wednesday, 17 June 2020
to
Saturday, 27 June 2020

Time

19:00
Mari Kita Cari
AmoreDio Night CG River Valley - #MARKICAR (Mari Kita Cari) bareng our special guest, Yurika Agustina (TOBIT)
----------------------------------------
STAY TUNE and visit our website at http://cg.amoredio.org
Follow us on Instagram @amoredio.sg
And don't forget to subscribe to our Youtube channel www.youtube.com/AmoreDio
---
Prayer Intention of the Month
July 2020
Ya Tuhan berkatilah kelancaran koordinasi, persiapan, dan acara ADN CG Novena tentang Holy Trinity. Kami berdoa semoga acara ini dapat membawa kami lebih dekat lagi kepada-Mu.
Ya Tuhan berkatilah dan jagalah dimanapun kami berada dalam kondisi 'New Normal' ini. Kami berdoa semoga situasi covid ini segera berakhir dan lindungilah kami semua dari pandemik ini.
Untuk intensi Paus: bagi keluarga
Kami berdoa untuk keluarga-keluarga di masa sekarang ini, semoga mereka dapat saling mencintai, menghormati satu sama lain dan saling membimbing.
---
Latest Updates / News
Latest Cell Group Readings
Sikap Gereja Katolik Terhadap Homoseksualitas
Sesi 36 - Week of 28 Jun 2020
Kita banyak mendengar tentang istilah LGBT yang adalah singkatan dari lesbian, gay, biseksual, transgender. Dan juga masih banyak istilah-istilah lain yang digunakan untuk perilaku-perilaku seksual yang lain. LGBT memiliki lambang berupa bendera berwarna pelangi. Dari sudut pandang ilmu kesehatan perilaku lesbian, gay, biseksual, dan transgender ini tidak dibenarkan. Demikian pula halnya dengan sudut pandang Gereja Katolik, perilaku homoseksual merupakan penyimpangan.
Recent Article
AmoreDio Night #MarKiCar Web Series
Circuit breaker tidak menjadi halangan buat acara AmoreDio Night (ADN). Sedikit berbeda dari ADN yang lalu, kali ini teman-teman Cell Group AmoreDio menyuguhkan sesuatu yang baru, yaitu sebuah Web Series di YouTube AmoreDio dengan judul "MarKiCar – Mari Kita Cari". MarKiCar Web Series mengangkat tema Theology of the Body (TOB) sebagai materi pembahasan yang dibagi […]
---
Contact Us
| Cell Group | Contact Person | Contact Number | Area | Cell Group Day | Start Timing |
| --- | --- | --- | --- | --- | --- |
| Coordinator | Nia | 84065832 | - | - | - |
| CG Eunos | Lala | 90535129 | Eunos | every Monday | 8:00 PM |
| CG OLPS | Cindy | 97163197 | Our Lady of Perpetual Succour classroom | every Monday | 8:00 PM |
| CG River Valley | Olivia | 90077036 | St Bernadette classroom | every Wednesday | 8:00 PM |
| CG West | Christian | 85918117 | Clementi | every Thursday | 8:00 PM |
| CG Youth (for youth under 25 years old) | Chacha | 94578469 | St Bernadette classroom | every Thursday | 8:00 PM |
| CG Central | Andi | 90683590 | St Bernadette classroom | every Thursday | 8:00 PM |
| CG Novena | Elva | 91412414 | Toa Payoh | every Thursday | 8:00 PM |
| CG Bishan | Gladys | 98155563 | Bishan/Buangkok | every Thursday | 8:00 PM |
| CG Holy Family (for married couples) | Kelyn | 97116112 | Please contact Kelyn | every 1st and 3rd Sat of the month | 11:00 AM |