Welcome!
We are AmoreDio, a youth Indonesian Catholic community based in Singapore. You can find out more about our cell groups, ministries and activities here.
Join us as we grow and encounter Jesus' love together!
---
Latest Event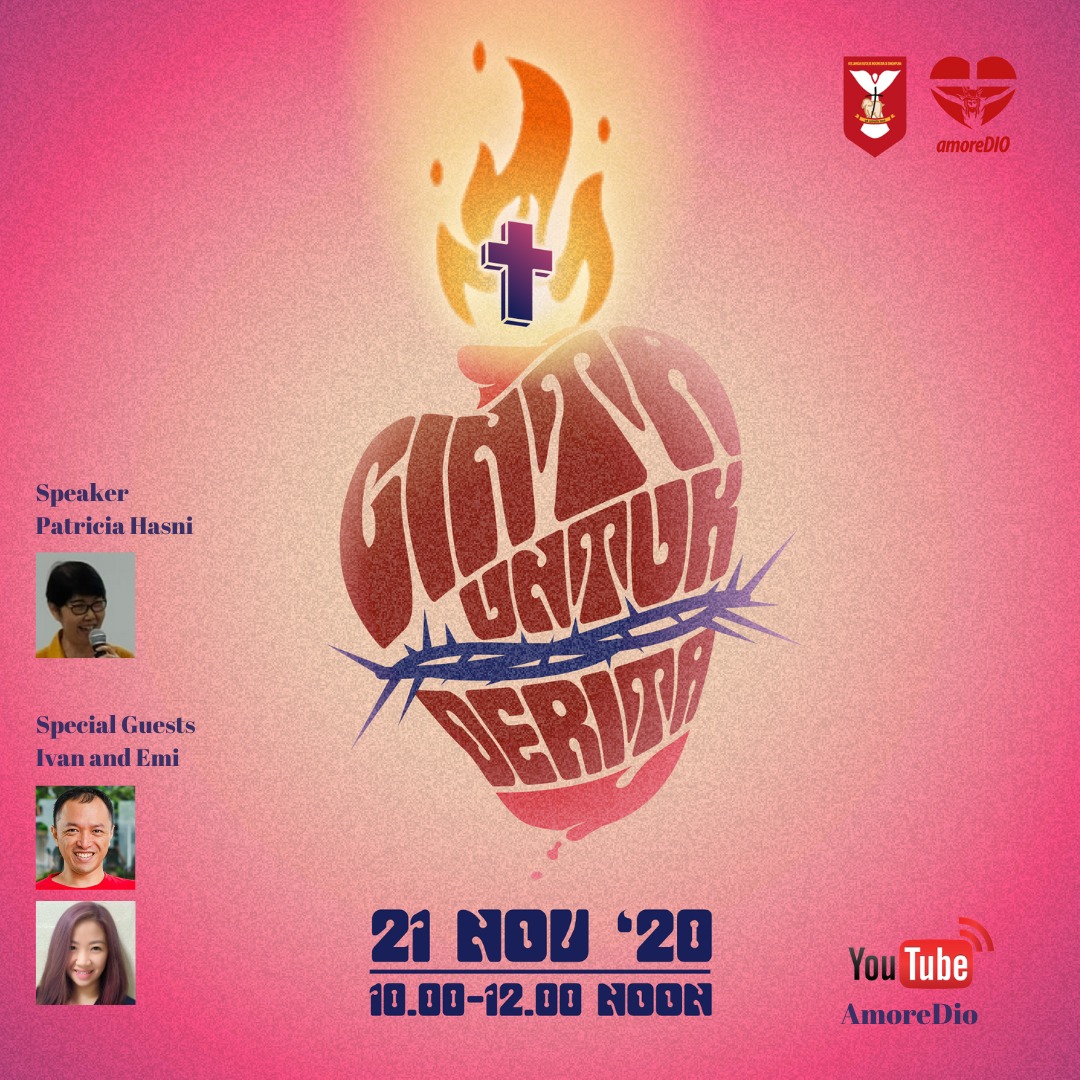 Event Details
Venue

Youtube @amoredio

Date

Saturday, 21 November 2020

Time

10:00 to 12:00 noon
ADN Cinta Untuk Derita
Kenapa ada penderitaan di dunia ini. Cobaan dan masalah datang bertubi-tubi..is there any light at the end of the tunnel?
Apakah penderitaan itu perlu? Benarkah cinta itu penderitaan-nya tiada akhir?

ADN CG Holy Family invites you to join our Online Session with Patricia Hasni (Pewarta Shekina BPK KAJ)
Special guests Stefanus Wayanartha (Ivan) and Emiliana Bong. Look forward to their sharing session!

Cinta Untuk Derita
Sabtu, 21 Nov 2020
10:00 am - 12:00 noon
LIVE on AmoreDio Youtube channel
---
Prayer Intention of the Month
November 2020
Ya Bapa, berkatilah teman-teman dari CG Holy Family yang mempersiapkan ADN bulan ini bersama Ci Patricia Hasni dari Komunitas Amazing Grace Jakarta. Semoga kami dapat semakin menyerupai Kristus yang bersedia menderita karena kasih-Nya yang besar bagi manusia.
Kami juga ingin berdoa untuk arwah-arwah yang berada di api penyucian. Ya Bapa, tunjukkanlah belas kasih-Mu bagi mereka dan berilah mereka istirahat kekal bersama-Mu di surga.
Untuk intensi Paus. Semoga kemajuan teknologi di bidang robotic dan artificial intelligence selalu dipakai untuk membawa kebaikan bagi manusia.
---
Latest Updates / News
Latest Cell Group Readings
Claims Every Catholics Should be Able to Answer
Sesi 53 - Week of 29 Nov 2020
Pernahkah teman-teman Amoredio berhadapan dengan situasi dimana mungkin teman, saudara atau kerabat yang kalian kenal berkata seperti : "Ah.. ngapain sih ke Gereja? Yang penting kan gua jadi orang baik-baik." atau "Halahh.. ga usah lah ngaku dosa segala ke pastor, yang penting itu kita ngaku langsung ke Tuhan aja", dan masih banyak lagi. Apakah yang teman-teman lakukan ketika berhadapan dengan pertanyaan atau pernyataan seperti ini?

Mungkin ada yang dari kita yang menghindar untuk menjawab, atau mungkin ada yang berusaha menjawab tapi tidak tau bagaimana harus memulainya. Mari kita pelajari bagaimana seharusnya kita sebagai orang Katolik menjawab pertanyaan-pertanyaan tersebut.
Recent Article
AmoreDio Night #MarKiCar Web Series
Circuit breaker tidak menjadi halangan buat acara AmoreDio Night (ADN). Sedikit berbeda dari ADN yang lalu, kali ini teman-teman Cell Group AmoreDio menyuguhkan sesuatu yang baru, yaitu sebuah Web Series di YouTube AmoreDio dengan judul "MarKiCar – Mari Kita Cari". MarKiCar Web Series mengangkat tema Theology of the Body (TOB) sebagai materi pembahasan yang dibagi […]
---
Contact Us
| Cell Group | Contact Person | Contact Number | Area | Cell Group Day | Start Timing |
| --- | --- | --- | --- | --- | --- |
| Coordinator | Nia | 84065832 | - | - | - |
| CG Eunos | Lala | 90535129 | Eunos | every Monday | 8:00 PM |
| CG OLPS | Cindy | 97163197 | Our Lady of Perpetual Succour classroom | every Monday | 8:00 PM |
| CG River Valley | Olivia | 90077036 | St Bernadette classroom | every Wednesday | 8:00 PM |
| CG West | Christian | 85918117 | Clementi | every Thursday | 8:00 PM |
| CG Youth (for youth under 25 years old) | Chacha | 94578469 | St Bernadette classroom | every Thursday | 8:00 PM |
| CG Central | Andi | 90683590 | St Bernadette classroom | every Thursday | 8:00 PM |
| CG Novena | Elva | 91412414 | Toa Payoh | every Thursday | 8:00 PM |
| CG Bishan | Gladys | 98155563 | Bishan/Buangkok | every Thursday | 8:00 PM |
| CG Holy Family (for married couples) | Kelyn | 97116112 | Please contact Kelyn | every 1st and 3rd Sat of the month | 11:00 AM |