Welcome!
We are AmoreDio, a youth Indonesian Catholic community based in Singapore. You can find out more about our cell groups, ministries and activities here.
Join us as we grow and encounter Jesus' love together!
---
Latest Event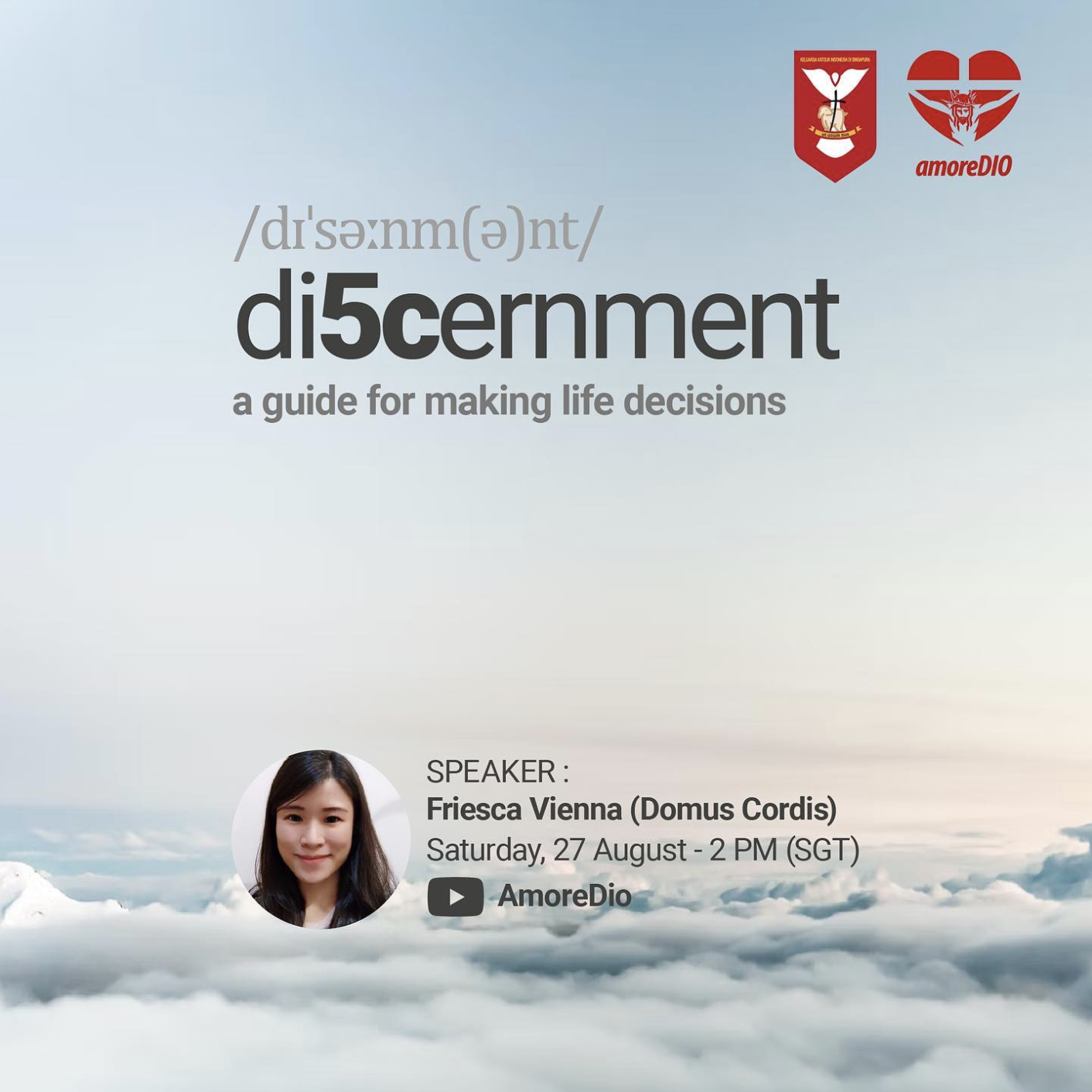 Event Details
Venue

https://linktr.ee/amoredio

Date

Saturday, 27 August 2022

Time

14:00 to 16:00
di5cernment
Eh itu typo ya title-nya atau emang nulisnya biar G4o3L gitu?

Kebanyakan dari temen2 pasti pernah denger kata "discernment" tersebut, apalagi kalau kamu pernah atau bahkan sedang bingung dalam menentukan pilihan-pilihan hidup.

Di ADD "di5cernment" kita akan mendalami bagaimana kita bisa menggunakan 5C untuk membuat pilihan hidup yang lebih tepat sesuai ajaran Katolik. Penasaran kan?? Yuk join hari Sabtu, 27 Agustus 2022, jam 2 siang SGT bersama Friesca Vienna dari Domus Cordis biar gak perlu galau-galau lagi :)
---
Prayer Intention of the Month
December 2022
1. Puji syukur atas segala penyertaan dan rahmat-Mu ya Tuhan atas AmoreDio sepanjang tahun 2022. Semoga di masa adven ini kami semua senantiasa dibimbing untuk mempersiapkan hati yang layak untuk menyambut Tuhan Yesus di hari Natal dan bisa menjadi pembawa damai dan sukacita bagi keluarga dan sesama.
2. Bagi semua anggota AmoreDio, semoga kami boleh selalu diberikan semangat untuk selalu aktif dalam kegiatan CG dan pelayanan.
3. Intensi Paus bulan Desember: kami berdoa bagi para sukarelawan yang berkomitmen untuk pembangunan manusia, semoga mereka dapat menemukan orang-orang yang berdedikasi untuk kebaikan bersama dan tanpa henti mencari jalan baru menuju kerja sama internasional.
---
Latest Updates / News
Latest Cell Group Readings
Minggu Adven Ke-1
Sesi 50 - Week of 27 November 2022
Tanpa terasa kita sudah dekat ke penghujung tahun 2022 dan minggu ini kita telah masuk ke masa adven dalam kalender liturgi Gereja sebagai masa persiapan untuk menyambut kelahiran Yesus pada hari Natal nanti. Yesus adalah hadiah terbesar yang diberikan Allah Bapa kepada kita dan kita akan dapat menemukan arti Natal yang sesungguhnya ketika kita menyadari betapa besar kasih Allah kepada kita masing-masing.

Dalam CG hari ini, kita akan merefleksikan Firman Allah yang telah kita dengar di Misa hari Minggu kemarin. Allah berbicara secara personal kepada kita masing-masing dan Firman-Nya akan menjadi pelita dalam perjalanan hidup kita. Marilah kita siapkan hati untuk memulai renungan hari ini.
Recent Article
AmoreDio Beach Cleaning
Dalam menyambut Natal, umat Katolik mempersiapkan diri dengan membersihkan diri dari dosa. Dengan semangat yang sama, AmoreDio juga mau mengajak teman-teman untuk membersihkan lingkungan. Membersihkan pantai merupakan salah satu cara untuk menjaga supaya pantai tetap sehat dan dapat dinikmati oleh semua orang. Pada tanggal 12 Desember 2020 lalu, AmoreDio mengadakan acara Beach Cleaning di East […]
---
Contact Us
| Cell Group | Contact Person | Contact Number | Area | Cell Group Day | Start Timing |
| --- | --- | --- | --- | --- | --- |
| Coordinator | Nia | 84065832 | - | - | - |
| CG Eunos | Joice | 87401674 | Eunos | every Monday | 8:00 PM |
| CG OLPS | Telly | 97773392 | Our Lady of Perpetual Succour classroom | every Monday | 8:00 PM |
| CG River Valley | Rosie | 81225413 | St Bernadette classroom | every Wednesday | 8:00 PM |
| CG West | Arliando | 98950484 | Clementi | every Thursday | 8:00 PM |
| CG Youth (for youth under 25 years old) | Shania | 98868576 | St Bernadette classroom | every Saturday | 11:00 AM |
| CG Weekend | Yohanes Kevin | 83935173 | Online | every Saturday | 2:00 PM |
| CG Novena | Elva | 91412414 | Novena | every Tuesday | 8:00 PM |
| CG Bishan | Theodore | 97510743 | Bishan/Buangkok | every Thursday | 8:00 PM |
| CG Holy Family (for married couples) | Amanda | 84264875 | Please contact Amanda | every 1st and 3rd Sat of the month | 11:00 AM |