Welcome!
We are AmoreDio, a youth Indonesian Catholic community based in Singapore. You can find out more about our cell groups, ministries and activities here.
Join us as we grow and encounter Jesus' love together!
---
Latest Event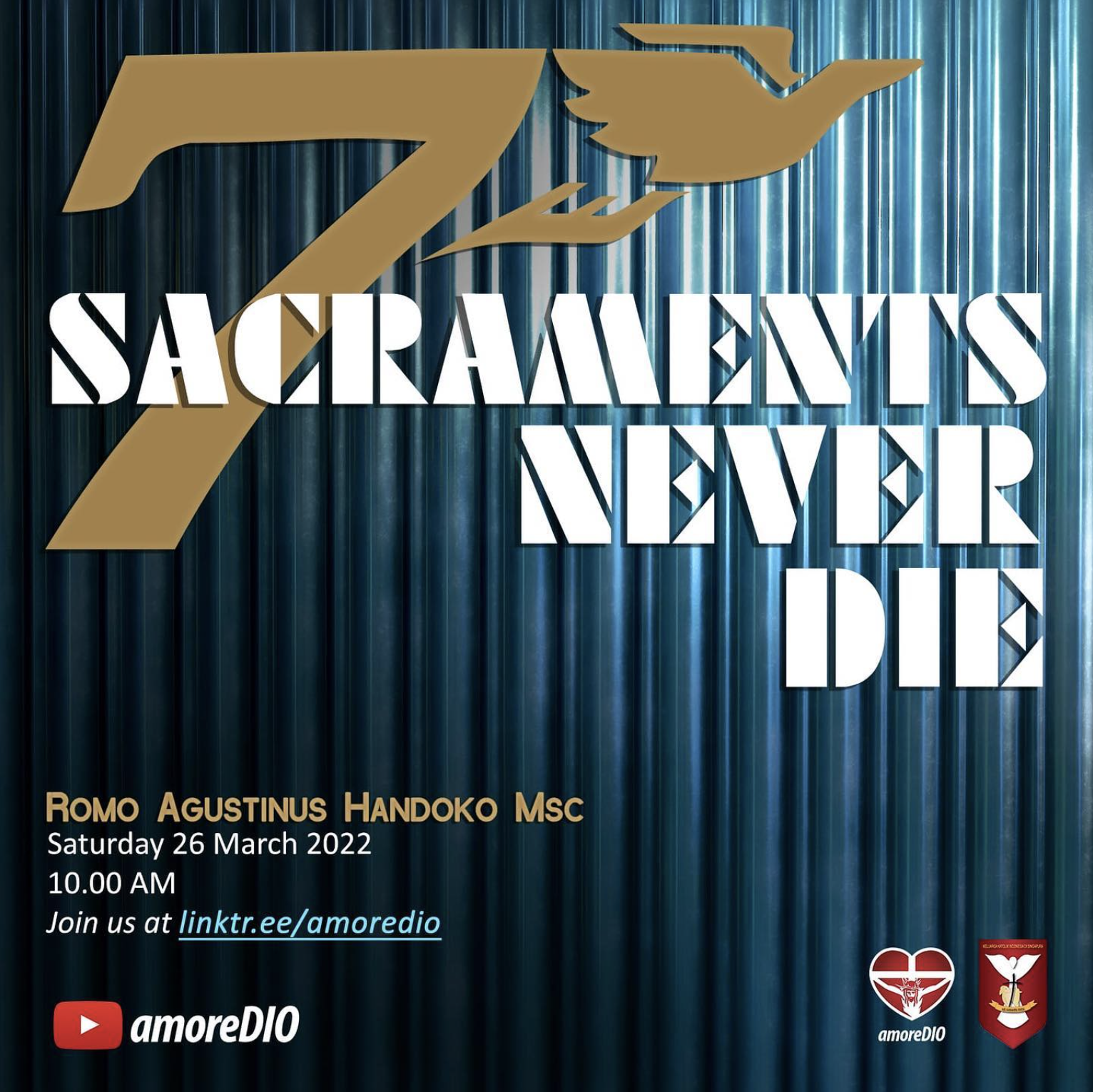 Event Details
Venue

linktr.ee/amoredio

Date

Saturday, 26 March 2022

Time

10:00 to 12:00
7 Sacraments Never Die
Kenapa sih Gereja Katolik punya 7 sakramen? Banyak amat? Bagaimana sakramen bisa membuatku lebih dekat dengan Tuhan? Apakah aku harus menerima semuanya? Yok temukan jawabannya di

AmoreDio Day: 7 Sacraments Never Die bersama Romo Agustinus Handoko, Msc
---
Prayer Intention of the Month
June 2022
1. Ya Tuhan, berkatilah acara Amore Dio Day di bln Juni dan pembicara kami Ko Budi serta teman-teman dari CG Eunos yang mempersiapkan acara ini. Semoga kami diberkati dengan semangat evangelisasi yang berkobar-kobar untuk memperkenalkan Engkau kepada lebih banyak orang.
2. Ya Tuhan, berkatilah dunia ini dengan kedamaian dan semoga segala bentuk kekerasan bisa segera dihentikan. Dan kami juga ingin berdoa semoga kondisi pandemi bisa segera berakhir dan kami boleh kembali beraktivitas secara fisikal.
3. Kami ingin berdoa untuk intensi Bapa Paus. Semoga keluarga-keluarga Kristiani di seluruh dunia boleh dipenuhi dengan kasih yang tanpa batas dan membawa seluruh anggota keluarga pada kekudusan dalam kehidupan sehari-hari.
---
Latest Updates / News
Latest Cell Group Readings
Evangelisasi Baru
Sesi 32 - Week of 12 Jun 2022
Apa yang pertama kali muncul di pikiran kita ketika mendengar kata evangelisasi? Mungkin kita langsung mengasosiasikan tugas ini sebagai hal yang sulit, atau tugas khusus untuk para pastor, misionaris, dan orang-orang "terpilih" lainnya. Tetapi tahukah kamu bahwa evangelisasi adalah misi yang diberikan oleh Yesus kepada Gereja-Nya? Ini berarti setiap orang Katolik mempunyai tugas untuk melakukan evangelisasi yang intinya adalah mewartakan Kabar Injil kepada seluruh dunia. Hari ini kita akan membahas tentang evangelisasi baru dan belajar tentang peranan Roh Kudus dan Bunda Maria yang membantu kita dalam menjalani misi ini.
Recent Article
How to locate the Best Data Room Service provider
In order to find the very best data place provider, you have to know a few factors. Most service providers have different types of plans and prices. A higher cost doesn't imply better quality, nonetheless it does indicate a better info room. Have a look at a data room's certifications to verify if it fits […]
---
Contact Us
| Cell Group | Contact Person | Contact Number | Area | Cell Group Day | Start Timing |
| --- | --- | --- | --- | --- | --- |
| Coordinator | Nia | 84065832 | - | - | - |
| CG Eunos | Joice | 87401674 | Eunos | every Monday | 8:00 PM |
| CG OLPS | Telly | 97773392 | Our Lady of Perpetual Succour classroom | every Monday | 8:00 PM |
| CG River Valley | Rosie | 81225413 | St Bernadette classroom | every Wednesday | 8:00 PM |
| CG West | Arliando | 98950484 | Clementi | every Thursday | 8:00 PM |
| CG Youth (for youth under 25 years old) | Givensius | +6281217220278 | St Bernadette classroom | every Friday | 8:00 PM |
| CG Sabtu | Yohanes Kevin | 83935173 | Online | every Saturday | 10:00 AM |
| CG Novena | Elva | 91412414 | Novena | every Tuesday | 8:00 PM |
| CG Bishan | Theodore | 97510743 | Bishan/Buangkok | every Thursday | 8:00 PM |
| CG Holy Family (for married couples) | Amanda | 84264875 | Please contact Amanda | every 1st and 3rd Sat of the month | 11:00 AM |